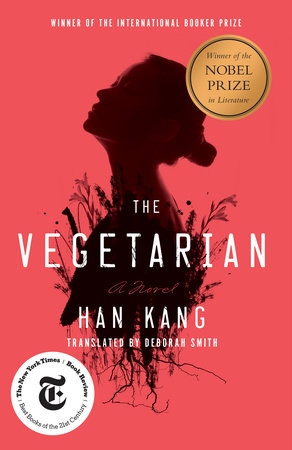 The Vegetarian
by Han Kang
published by Penguin Random House
2016
"Anyone can see that I'm the real victim here."
– The Husband, after his Wife's spontaneous suicide attempt after she is physically attacked by her family.
(OMG, the lack of self awareness for this character is SO CONVINCING!)
The award winning novel, The Vegetarian, translated into English from Korean, tells the story of a woman living in a strictly conformist, patriarchal society, in a traditional marriage, from a domineering family, who decides to change just one thing about her life. After a dream of animal suffering, she decides to stop eating meat.
All hell breaks loose.
Our protagonist is nameless at first, and is initially defined only by her relationships to others. Her story is told primarily through the eyes of her self-absorbed husband, her obsessive brother-in-law, and her deeply concerned sister, each of whom sees her quite differently and has a completely different experience of knowing her and watching her change.
The story (or up to four stories, depending on how you view it) is a dark view of obligation, conformity, and custom, with glimpses of vivid, delicate, fleeting freedom.
(As a vegetarian who LOVES the vegan Buddhist temple food of Korea, the lack of understanding in this setting by her conformist family was especially striking. The precedent and ethics of her choice were not relevant to anyone at the time, which is more indicative of her situation than the specific choice she was making. )