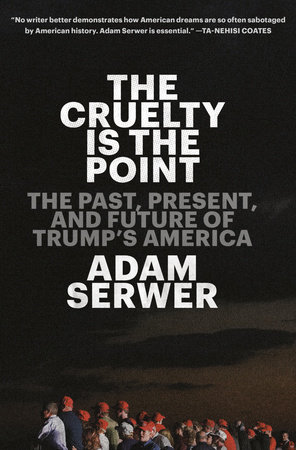 The Cruelty Is the Point: The Past, Present, and Future of Trump's America
by Adam Serwer
published by One World (Penguin Random House), New York
2021
American political discourse has been disturbing and authoritarian in recent years, and the seriousness of it has made it tempting to look away and focus on small, manageable things in our personal lives. To help process the past US Administration's role in all of this, I found it useful to read Adam Serwer's excellent new book, based on essays he previously published in the Atlantic as events were unfolding, with new commentary introducing them. Named after an insightful essay which reflected on the hateful rhetoric that was embraced by the authoritarian Trump and his followers, this book provides insights and context for the horrors that have been unfolding around us.
I went through a pad of page flags while reading, which was unexpected, but Serwer's insights are thoughtful and useful enough to revisit. He also cited other books, articles, and authors who can provide additional details and depth on our history, our power structures, and the tension-to-conflict between our stated principles and national behavior. (My to-read list feels infinite already, but some of these are quite promising.)
When Serwer interviews people who mistakenly believe that illegal immigrants receive amazing services and benefits which other Americans do not (much as I read elsewhere of the same demographic groups believing that black people received free cell phones under Obama, or that all black people are given free college tuition because of some big government intervention that I wish actually existed), their hysteria over immigration makes slightly more sense, even while knowing it is based on lies, and even while recognizing their position is a cowardly attack on the vulnerable rather than an authentic challenge the powerful.
Serwer astutely identifies the right-wing's objections to "political correctness" as a strong objection that previously oppressed groups have standing in society to challenge their abuse. He cuts apart the idea of false, historical "civility" in which white men in power simply set aside the rights of others so that the powerful could remain comfortable, an indulgence that costs the rest of us dearly. I love this sentence:
In Ivy League debate rooms and the Senate cloakroom, white men could discuss the most divisive issues of the day with all the politeness befitting what was for them a low-stakes conflict. Outside, the people whose rights were actually at stake were fighting and dying to have those rights recognized.
I appreciate Serwer's insights on US police abuses of (and more specifically for) power, how the brief history of policing within the U.S. has been problematic in a range of disturbing ways since the outset of public police departments in the 1800s, and how domestic police cultures have long held authoritarian leanings. His writing helped remind and clarify for me that publicly funded police represent the interests of the entrenched powerful, and those entrenched powerful (and those who look like them) benefit from a historically exploitative status quo that allowed them to come to power. This loyalty to power makes much more sense from observable routine events of police violence than an idea that the police exist primarily to support actual laws or the public at large.
Adam Serwer's journalism and analyses make a great book, and this collection provides clear insights on the challenges and outright dangers we face in the U.S. Published this year, its essays take us right up to the current moment, and will remain highly relevant for the foreseeable future. I recommend it highly.