'No Way To Prevent This,' Says Only Nation Where This Regularly Happens
UVALDE, TX—In the hours following a violent rampage in Texas in which a lone attacker killed at least 21 individuals and injured several others, citizens living in the only country where this kind of mass killing routinely occurs reportedly concluded Tuesday that there was no way to prevent the mass…
If you aren't used to seeing this satire site's fierce commentary on American Denialism, it devastates because they can use this template SO OFTEN.
The Onion went big for this particular mass shooting, covering their page in reprints of the many times they have needed to use it. For commentary on that, the Guardian has a good recap: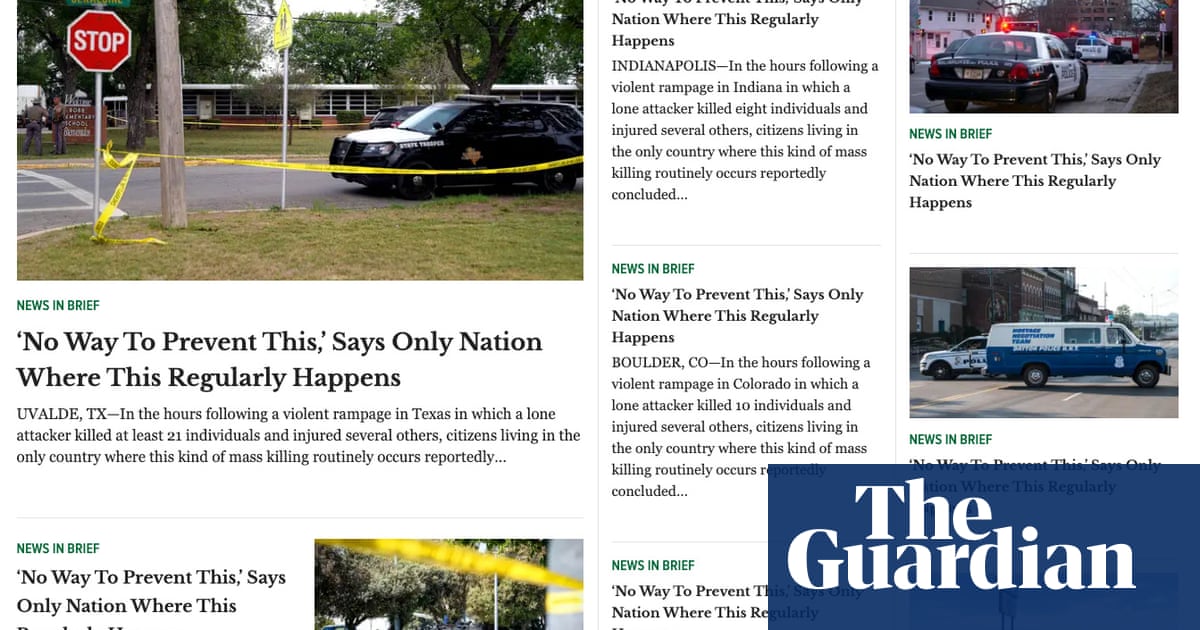 'No way to prevent this': why the Onion's gun violence headline is so devastating
After the latest mass shooting in Texas, the site, known for satire, opted for a layout that was 'not a belly-laugh type joke'
While you may think this dark view and the imagined interviews are an overstatement, I personally have heard young people say that mass murders such as these can't be prevented and that gun control doesn't work, completely oblivious to how the rest of the developed world lives. Without awareness of the world beyond the US borders, the fact that other nations successfully prevent mass murders and successfully apply gun control can't penetrate the internal propaganda bubble that Americans live in. (This is politically convenient for all sorts of fringe political leaders, but mostly right-wing ones, which we have so many of.) The internal propaganda around this wears people down, until they just… accept it.
And Americans have fantasies such as, "this can't happen here, to my family," until it does.