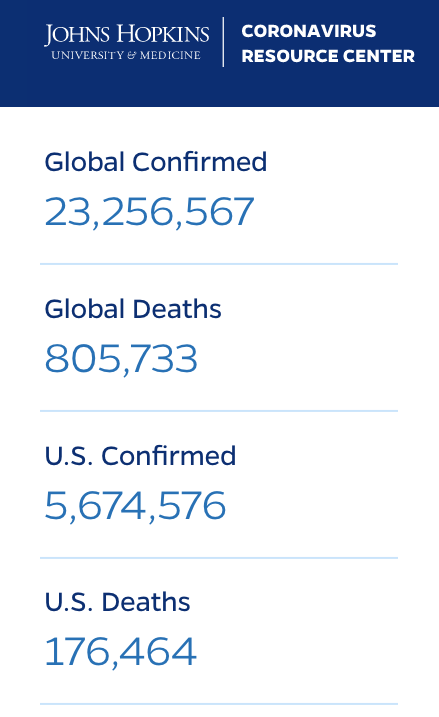 If the US was doing well, the current coronavirus numbers would be shouted from rooftops; instead, they are dire, and are noted quietly, without fanfare, and set aside. Or denied by partisans or by people who can't manage bad news.
*
I was reading an interview with William Gibson, one of my favorite fiction authors (possibly this one in the UK Guardian from January of this year), and was really struck by how he had to rewrite his novel then in progress, because the 2016 elections in the United States made the story he was telling unmoored from the reality that was unfolding.
The COVID-19 pandemic currently spreading around the world, and in particular spreading in an uncontrolled fashion throughout the US, is a similar, world-changing, culture-changing experience. This is evident to the point that people watching films that were made prior to the pandemic are uncomfortable with how close people are standing together, and how many things the characters touch, because we are looking at these interactions in the context of a new risk profile. These scenes of people in crowds, or in enclosed spaces with strangers, or speaking close to the faces of people they barely know, have a new meaning. They are no longer of our time – they feel out of place. So clearly from Before.
This is an unevenly distributed problem: in New Zealand, people are living reasonably normal lives; in the city in China where the virus was first recognized as a problem, life has moved on and people are attending outdoor pool-party concerts with no real fear. (This contrasts with people who are oblivious to the risks, and are spreading the infection actively in countries where infections are still rising, in part due to this obliviousness: their very obliviousness is creating dread – and danger – for others.)
Everything has context. I'm wrestling with the conceptual changes to my own right now, after 24 weeks of adjustment and precautions. There is a lot to process.
*
Depending on how long getting this under control takes, there are lots of adjustments that will need to be made: many people who will need to be tasked with providing support, current under-utilized (abandoned in favor of working from home) office space could be safely set up for students who need zippy internet and lots of space (especially for those whose parents are essential workers and need a place to be, but also because our schools aren't set up for this, nor is everyone's home set up for remote lessons; supervision and appropriately staggered arrival and departure times are required). We'll need lots of workers to renovate ventilation systems, very large service centers for the unhoused (more dining rooms, more places to stay, more services generally)… There is so much to be done. There are SO MANY KINDS of emergencies that we prepare for, but the pandemic is messing up THOSE plans also (fire shelters don't have capacity for crowds during a pandemic), and those plans also need to be revised.
None of which is my job, but somehow a lot of it is on my mind. I mean, this likely isn't the only pandemic we'll have. And, we can't keep stumbling around like this, hoping it will pass while not changing things up. A lot of people are available who could be put to work if we have new plans. And… my optimism is breaking out of it's tiny container again, but it's still there…
*
Will this have an impact on my writing and vision of the future, to the extent there is a future with the climate crisis in full effect? Yes. I'm adjusting it now, as if my one dystopian novella wasn't dystopian enough…