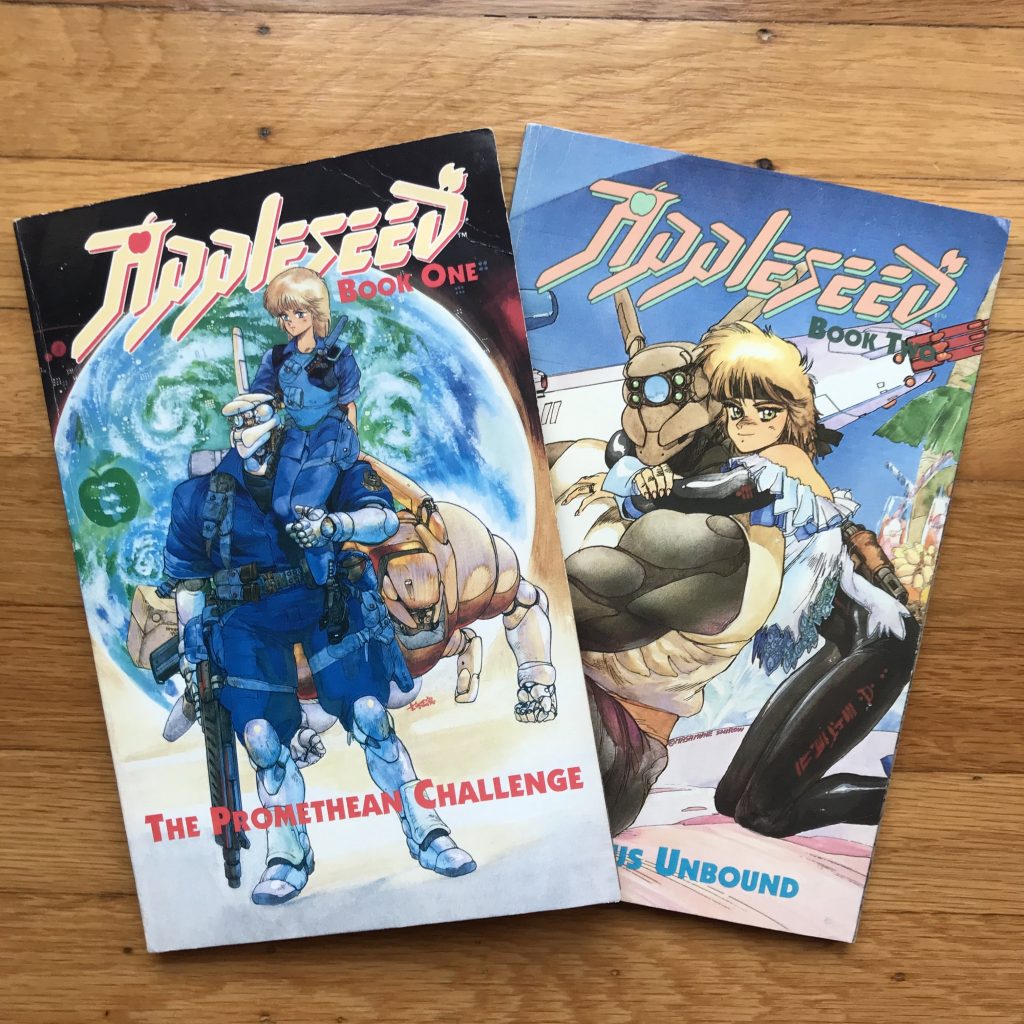 Appleseed Book One: The Promethean Challenge
Appleseed Book Two: Prometheus Unbound
Appleseed Book Three: The Scales of Prometheus
Appleseed Book Four: The Promethean Balance
by Masamune Shirow and Seishinsha (and many translators)
published in English by Eclipse International (books One and Two) and Dark Horse Manga (a part of Dark Horse Comics) (not shown, Books Three and Four)
1989, 1990, 2008, 2009
I was recently chatting with an architect, and discussed how 1980s manga from Japan had some interesting conceptual architecture. The 80s were an era when the idea of "arcologies" (large sustainable, self-contained or partially self-supporting construction projects) was all the rage in architecture theory magazines, and some famous Japanese architects made some wild sculptural drawings which got a lot of press. On this topic, I loaned him the first two volumes of Masamune Shirow's Appleseed manga.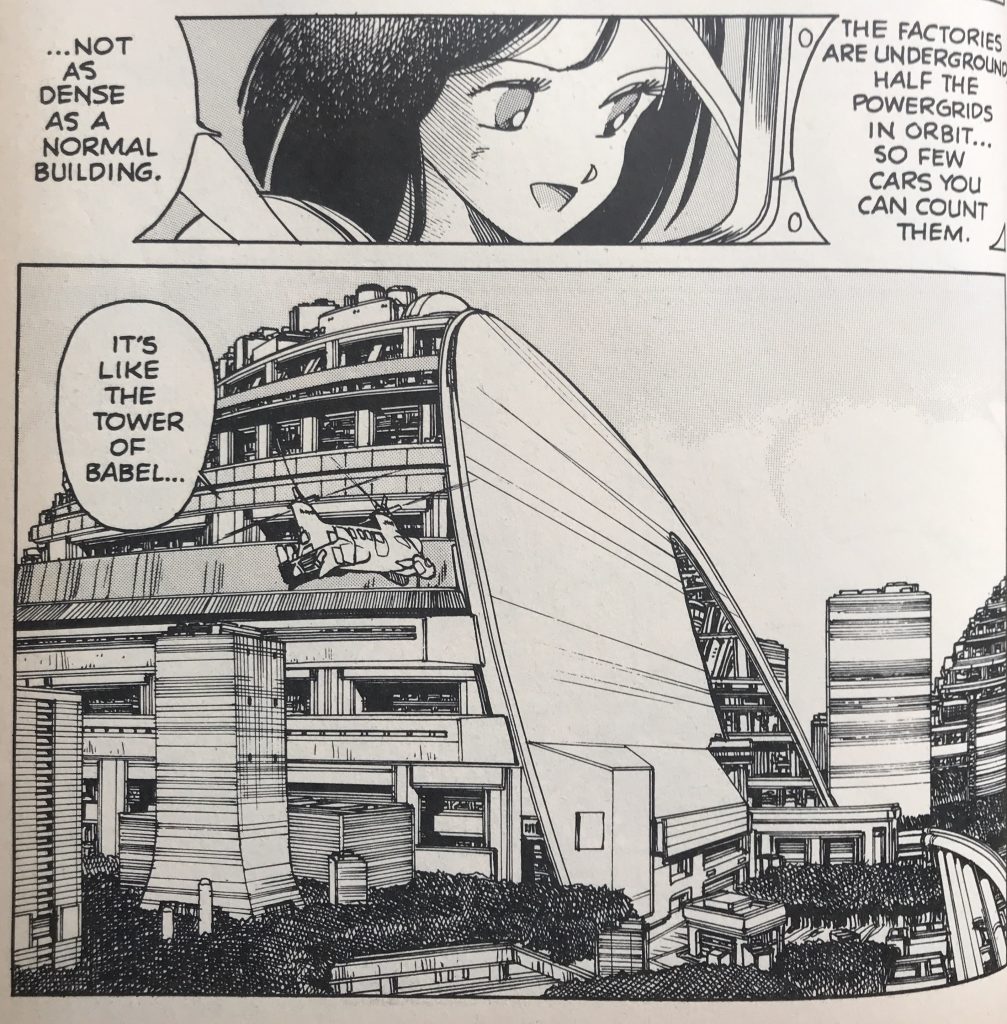 Now it's my fault that architecture students at a local UC have to create an architecturally-themed manga as one of their assignments. (Sorry, kids!)
The architecture in the manga IS really detailed – these aren't just backgrounds for wild action, but an entire portfolio of theoretical architectural design work in its own right. The end papers of each comic are always architectural, and whether the images are of the ruined high rises of the old world, or the solar-paneled developments of the new one, they are all done with pleasing attention to detail.
There are also lots of 1980s touches to the futurism – there are tons of 45 degree angled walls and buildings just because that's what we all thought was cool at the time, and things are only barely rounded, just a tad. Our futurism always gives away when we really made something! But it's NICE. It's internally consistent from a design standpoint. It's always done ALL THE WAY.
Should I say something about the manga itself? (What, there is a story?) Okay. Shirow, who is more famous for Ghost in the Shell (which has been turned into feature films at least four times now) was really at his peak (architecturally – ha!) for the Appleseed story. It follows a pair of soldiers, Deunan Knute and Briareos Hecatonchires, who were living in the ruins of cities in the aftermath of a devastating world war, as they are recruited to live in a new civilization that has risen from the ashes. They become police in a seemingly utopian society, but are put off a bit by the fact that most of the peaceful, educated residents of their new home are bio-engineered, and no longer completely human.
The first two volumes are world-building: Shirow explains world history, the rise of Olympus, the purpose of its population, and the political tensions that arise when you try to decide whether or not humans are really, you know, SAFE.
The second two volumes rely on the first (you can't just start there), and show the ongoing struggles of our protagonists with their dangerous jobs and complex political entanglements. These are mostly action sequences, and less philosophical than the first two, which had so many meaning-of-life debates among engineered bioroids that they required footnotes. (No, really.)
I have objections to some elements of the manga. A big one: Women's Bodies. The men are covered from head to toe, or are encased in robotic bodies, but the women show skin all the time, to the point that there are shower scenes (because of course). So, you 100% know this was drawn by a man, what his preferred body types are, and also that he is damned near obsessed with the female pelvic region, because of how often you can see it rendered in great detail even during fight scenes. (Once you see this theme, you can't unsee it. HOW MANY HIGH KICKS DOES A WOMAN REALLY NEED TO PLACE IN EVERY DAMNED BATTLE, HUH?) I now know that later in his career, Shirow turned to what we (Americans) call softcore porn drawings of shiny, oiled-looking youthful girls/women, so please be careful with your image searches!
Also, as a part black woman, I'm not a fan of how he draws black people. Since most of the characters appear to be heavily stylized pseudo-European (rather than Asian), there is a hazy stylized ethnic ambiguity until black people arrive, and they are suddenly VERY different. I'm not saying we aren't bigger or can have different features, but between the one black character in Macross/Robotech, or in the more recent Castlevania, there are some great manga-stylized renderings that I find more attractive. I realize that I have access to black people in my own family, and Shirow may not, but I was… confused by several of them, honestly.
So I have positive architectural feelings about Appleseed, and especially appreciate the buildings, machines, and industrial design of the first two books.