Twitter is mildly amusing at the moment, as many SF Bay Area people are wildly excited over the actuality of water falling from the sky.
The unfamiliar pitter-pat sounds on windows. The smell of petrichor. They are posting absurdly mundane videos celebrating droplets on windshields! Here in California, where fires in the mountains have burned for MONTHS, rain is a big deal.
Water! FROM THE SKY! 😄
A series of weather system will bring periods of light to moderate rainfall 🌧️ to the #BayArea & #CentralCoast through Friday. A more potent atmospheric river then takes aim on the region late in the weekend with widespread rainfall and gusty winds. Stay tuned!⚠️#CAwx #BayAreaWX pic.twitter.com/usmXHUzWfk

— NWS Bay Area (@NWSBayArea) October 20, 2021
We'd really like Wildfire Season to END.
It has been an agonizingly dry year. We only got about 30% of our hoped-for water from October of last year through September of this year. We'd really like to do better.
Here's what the US Drought Monitor for California looks like (brace yourself, it's bad):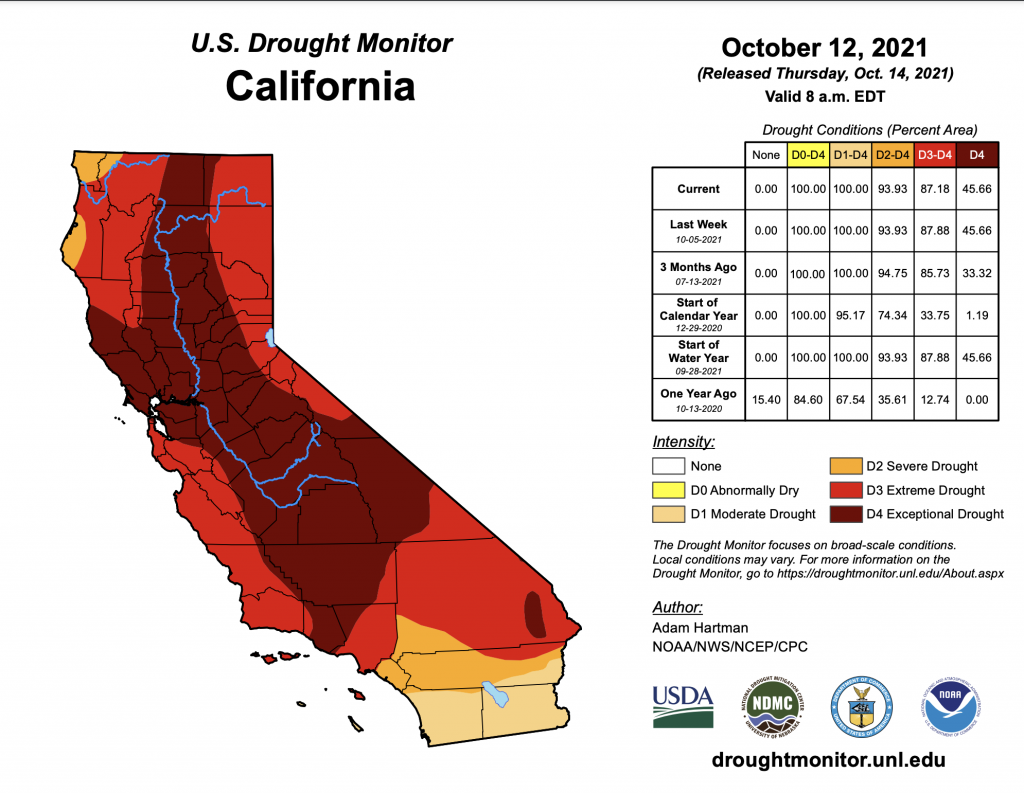 If monthly numerical tables are more of your thing, here is NOAA's data from our sad water year:

Monthly Precipitation Summary
California Nevada River Forecast Center – Your government source of hydrologic/weather data and forecasts for California, Nevada, and portions of southern Oregon
If you know people in the SF Bay Area or California generally, be prepared for their/our delight over a basic weather phenomenon that may be ordinary for you, but which feels like an incredible gift for us.