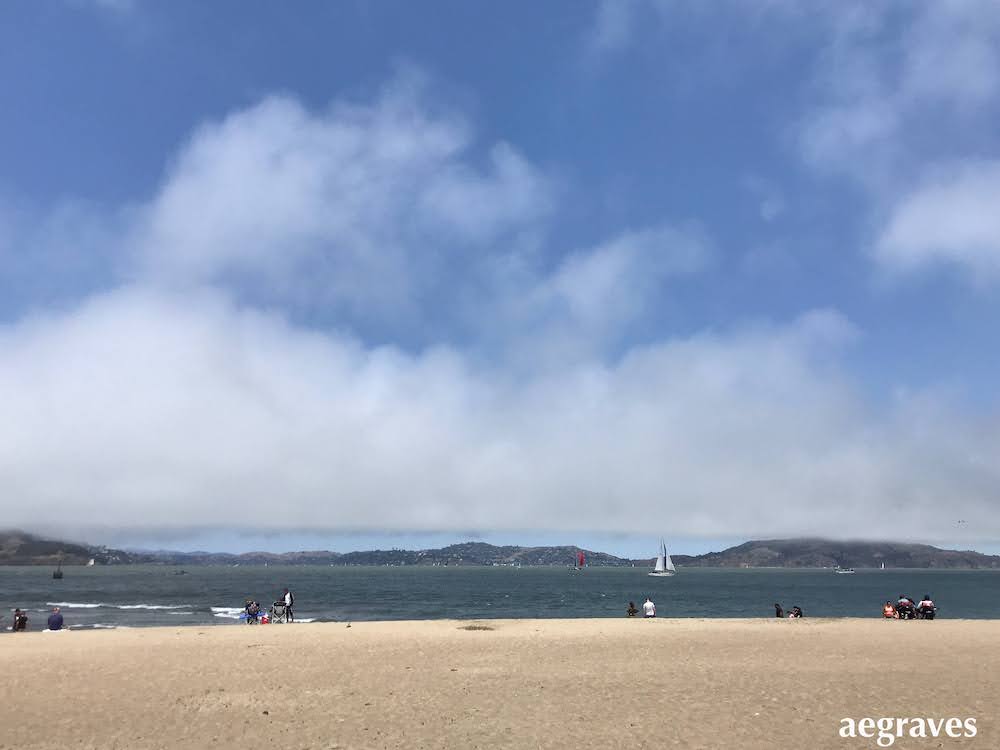 Life in San Francisco: July was a very foggy month in my San Francisco neighborhood's microclimate, and I've had to make field trips to other parts of town to see beyond the edges of our gray blanket. It still amazes me that a blue sky can be just a streetcar ride away!
Last weekend, I spent 6+ hours walking in the sun with another fog refugee on the east side of town. It was a delightful, relaxing, restorative day. I watched a bike rally and its DJ on the back of a flatbed truck; I had an excellent (yet overpriced) espresso drink; I advised my friend not to interact with a gathering of furries; we squirmed through a cheerful crowd of baseball fans; we enjoyed a delicious vegan Indonesian lunch at a picnic table; we explored a neighborhood she'd never visited; we had delicious frozen vegan desserts… [Drifting into a saffron-flavored reverie…]
I kept saying aloud: we are so LUCKY to live here. After sunset, we walked back to catch streetcars to return to our still-foggy homes. *sigh*
It was restorative not only because we enjoyed bright, mild weather, but also because it felt like the Before Times. The many traumas of the past year weren't on the surface, and it was barely noteworthy to wear masks on transit or while ordering food.
We are so very lucky.
*
Life in a Global Pandemic: It has been discouraging to read the news on the dominance of the Delta COVID variant, and to see the local cases rise from low double digits up into the hundreds.
It is especially discouraging knowing that this scenario was preventable. That future similar (or worse) outcomes are preventable. But too many people are choosing not to contribute to prevention.
I now have my first, close/personal, vaccinated friend with a 'breakthrough' case. She is an organized person with natural curiosity, so she formally polled her social circles, and has come up with 14 breakthrough cases within her network. (Yes, she is in the greater Los Angeles area, which has been an infection hotspot this entire time, likely due to right wing anti-prevention sentiment.) This alarming information helps me reset some of my own planning about indoor activities as a vaccinated person, which I am less likely to expand now.
I've ordered some more fabric face masks in nice patterns, and in black. Including more that have a pocket for an anti-particulate-smoke filter.
*
Life in a Climate Crisis: Speaking of smoke masks, the climate crisis is in the news daily, for all the wrong reasons. Rather than great news about countries meeting their climate goals, there have been a long series of disasters relating to increasing, localized extremes. There were so many flood stories last month (Japan, China, Germany, the Netherlands, Switzerland, the US (New York City)) and so many fire stories (we have more area burned here in California than even last year gave us; Siberia is on fire; tourists are being evacuated from fast moving fires in the Mediterranean by boat!) that any disaster image that appeared on my phone's screen from the news could be from ANYWHERE.
Because: the climate disaster is striking everywhere.
There were some unflattering quotes from survivors of the German floods saying that they had not believed this sort of thing could happen TO THEM, in THEIR country. (One of them named places where they WOULD expect this to happen, as if such events reflect a personal flaw of the citizens of those regions.)(*facepalm*) It suggested that they hadn't had sympathy with flood-hit regions they had seen on the news. They hadn't found it relevant when people in low-lying Pacific islands went to the UN, or when Greenlnd's high northern communities were suffering, but NOW it is real to them.
Perhaps this is what it takes. Wealthy, developed countries watching flood waters destroy their own cities and towns. Perhaps that is what makes it real enough for urgent action.
*
The news is filled with stories of Americans who are hospitalized with COVID complications, who want the vaccine too late to save their lives. I desperately want us to be smarter than that – not just about COVID, but about our environment. Perhaps we are already in the climate-crisis-hospital stage, and I'm just not accepting it.