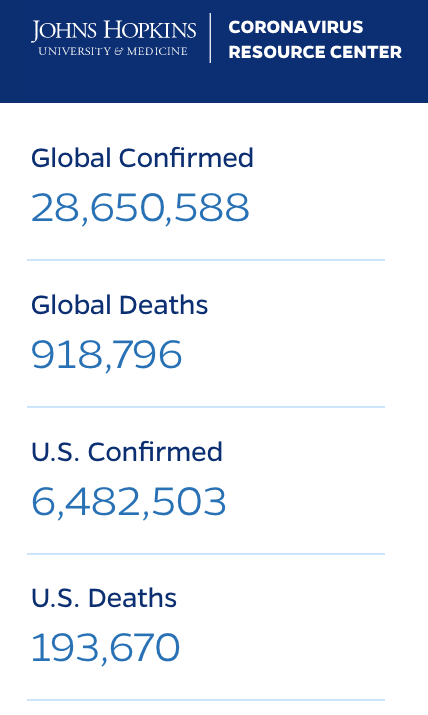 Johns Hopkins has come up with a daily data video, which is really well-produced. I'll embed it here:
We're at a point where about 35,000 Americans are being diagnosed daily, and about 1,000 Americans are dying daily.
DAILY.
This is a rough time.
I was chatting with a colleague, and now all chats with colleagues begin with checking in to be sure the other person is okay at a basic level.
We gradually got around to the point of discussing when the world would be closer to functional again, and while she wondered if this year would look like an extreme outlier in the history books, I worried that the history books might mark this year as the beginning of… a new phase, not necessarily an easier one. And we both wondered aloud how to get some of the new part to be POSITIVE: to fix something of the many things that were broken when things were "normal."
I hope we can. The old normal wasn't great, and while many of us would trade anything to go back to it… we could do better. I mean, we might even be able to take care of each other and our planet. We could CHOOSE that, if we get through this. Better choices may be HOW we get through this…