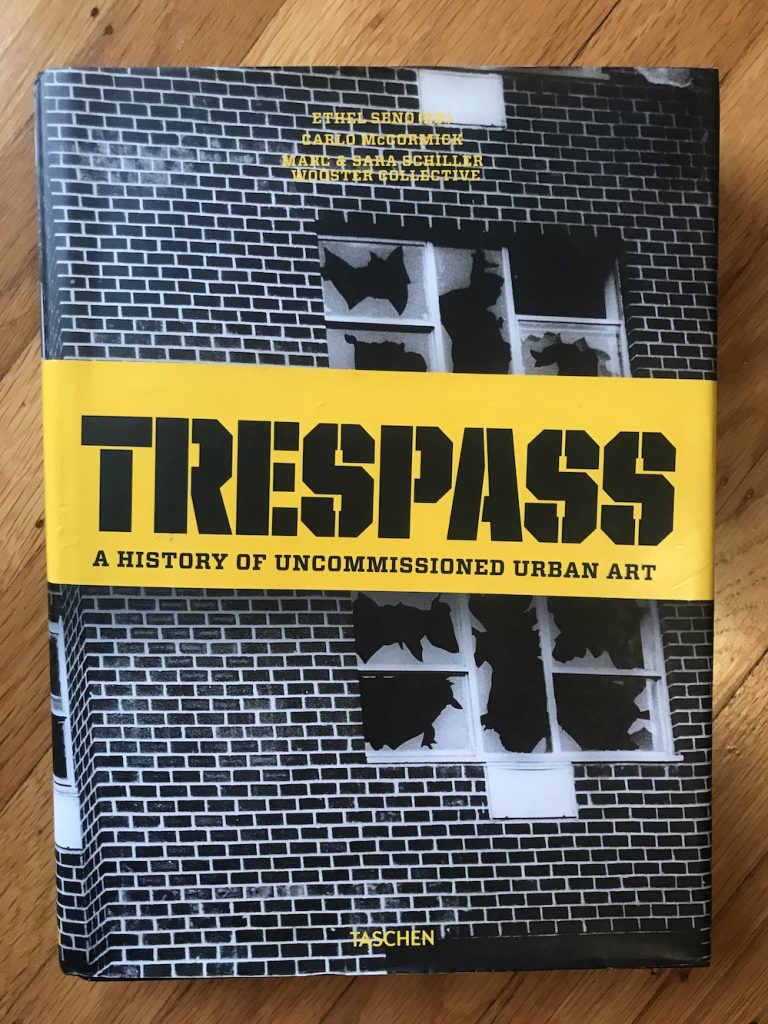 Trespass: A History of Uncommissioned Urban Art
edited by Ethel Seno, with essays. by other contributors
published by Taschen, Köln (Cologne), Germany
2010
This oversized book flew into my arms once I realized it included guerrilla gardens AND painted street art AND sculptural interventions AND abstract art… I believe this was one of those books that I bought in a museum shop while traveling, which complicated my return home because my luggage became too heavy…
This well produced book (Taschen makes well designed and printed art books) has a diverse set of urban art interventions, supported by a mix of good-plus-a-bit-stuffy essays about the value of unauthorized art installations. Is street art really at the level of Luther nailing his theses to the church door? (Me: Nope!) Can it be transformative and important and beneficial? (Me: Yes!). Is it a reclamation of public space back from advertising? (Me: sometimes, but not always.) I admit that I have preconceived notions (tagging = bad, graffiti pieces = good, gulf between those two things = huge), and the essays didn't change my views, but maybe I've just been spoiled by living in a great mural city, and didn't need to be won over for the value of these contributions to urban environments. I appreciate the attempt to distinguish vandalism from expression, though it is difficult to make broad generalizations – it's more of a case-by-case evaluation.
The book includes some solid old-school works that are worth knowing about, and gives NYC a lot of the credit it deserves (hooray!) for being such a huge influence on global street art culture. The book doesn't limit itself to NYC, of course, and shows great examples of work in different media from around the world. (I recognize multiple SF artists in here – hooray!)
The big value for me was showing me works I hadn't seen by artists I knew, or identifying things I'd seen in passing and tying them to specific artists/places/details. You know an art book is good when you get inspired to do more research, and I came away with a list of things to seek out.
This is a solid high-level survey of a very wide range of unauthorized works, from Banksy stencils to plants set into potholes in the road to yarn bombing. I enjoyed it, and feel enriched for having read it.
~ ~ ~ ~
P.S. Here are some links (unaffiliated with the book) about work and artists that the book inspired me to seek out more about:
Unauthorized gardens for the community were frowned upon by authorities, which makes the authorities look ridiculous… I'd seen this garden in images before, but didn't know the backstory. Now I do!
Crateman (in Australia) is charming and clever – I love the unanticipated use of a ubiquitous material. There is something especially fun about its low resolution. 🙂
Somehow, I had never seen the full set of Jenny Holzer's appropriately named "Inflammatory Essays," but I am fixing that now, thanks to the Tate's collection:
Holzer's website is also excellent and includes her current work (which is GREAT!):
There are several Barbara Kruger works in the book, and I was reminded of how impressive it is to be INSIDE one of her all text installations, such as the one at the Stedelijk Museum in Amsterdam. If you ever have a chance, it's great to stand in a room wrapped in her work.