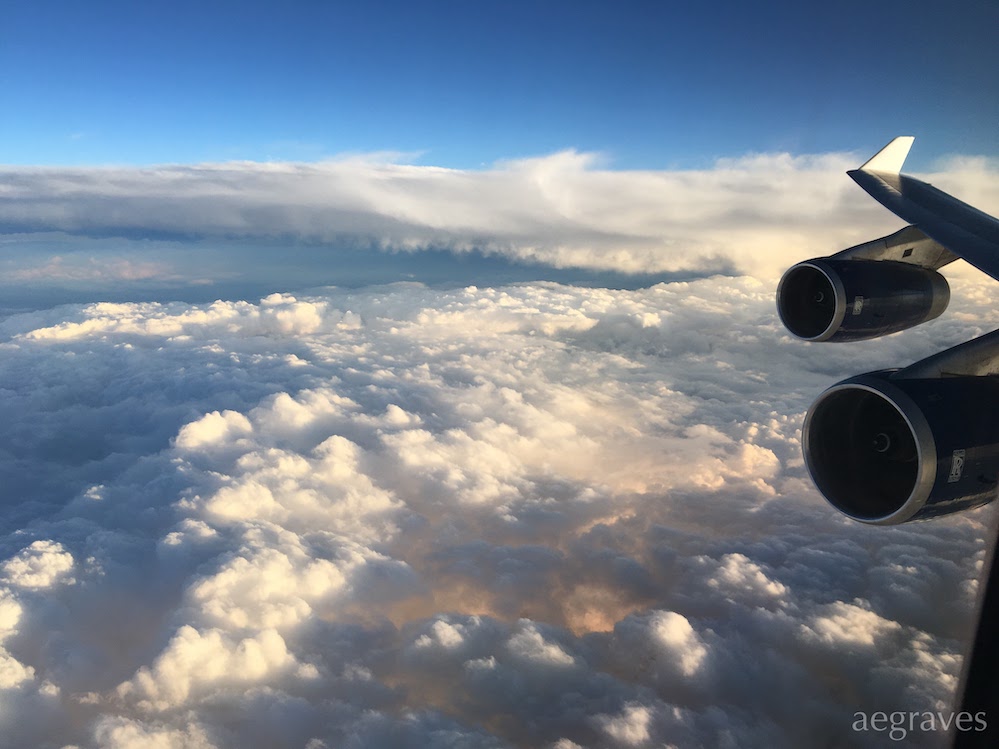 Having been unable to travel for so long due to the COVID-19 pandemic, I have a wicked case of wanderlust.
Some of my wanderlust is just caused by escapism: I'm dealing with lots of dull obligations, so the appeal of being AWAY is as alluring as the idea of specific places I may enjoy! I know myself well enough to recognize this, and am evaluating my fantasies carefully, to see what they are REALLY about.
As part of thinking about why I travel, I've been reading my writing about past trips, from my first, solo, trans-Pacific trip (to Japan) to my more recent writing about my taxing, trans-Atlantic business travel, where I was able to convey both the hardships AND the glamour.
That first solo trip was an amazing experience, but writing about it while I was sick with a persistent case of bronchitis skewed my reporting. Writing to friends who didn't share my interests in art narrowed it further. I managed to convey the difficulties well, but not the gorgeousness of misty paths leading to ancient shrines in wet, shady forests, or the beauty of clouds clinging to mountain tops, or the satisfaction of soaking in deeply sulfurous waters… While my friends (fairly) interpreted my writing as disappointment, and I did describe negative experiences and states of mind, I still enjoy memories from that trip: of oversized leaves that fell so noisily while I sat in a forest, lush carpets of moss in a chess-board-like temple garden with stone lanterns as chess pieces, the unexpected appeal of my German hiking companion as he boarded his departing train, the hot lemon drink that warmed me when I was rain-drenched, the bliss of soaking up to my neck in deep hostel bathtubs that I didn't describe…
The frustrations of the noisy crowds and the jostling students are also vivid, but are less important now: that wasn't my only trip to Japan, that wasn't my only visit to those sites in Kyoto, and my subsequent experiences at popular tourist sites mean I understand the limits of what they can and can't offer me in a way I didn't at the time.
That trip helped me see and accept what popular mass tourism is. I accept that there are lists of "must-see" destinations (which I don't actually have to see), and that some of those destinations may be worthwhile if I am willing to accept the consequences of their popularity. (This has also led to my intentional photo series of tourists taking photos at crowded sites, which I enjoy making, and which are only possible due to the nature of such sites.) Accepting this helps me make more informed choices about opting-in AND opting-out. I freely do both.
*
My business travel was also highly educational. Being overseas as part of an initial team that dispersed at the end of the business day/week, leaving me unexpectedly alone in a new place, I had to orient myself, and then decided to use my newfound knowledge to orient others. I recognized and appreciated the collegiality of someone with more experience there, and ensured I repaid that collegiality when our project changed sites, and that I followed his example in general. I knew what kinds of social and logistical support I had wanted, and I provided that to those who followed.
I gave tours, and took newcomers to my favorite spots if they shared my interests; I wrote a brief visitors guide; I recommended restaurants, dishes, beer, museums, hotels; I met up for meals with colleagues who didn't want to dine alone; I translated; I learned train lines, bought tickets, and guided colleagues to work, and in doing do, expanded the practical hotel range for a suburban office with a limited pool of hotels, so my colleagues could spend time in a world-class city rather than sit in a remote, rural hotel at night; I took colleagues on field trips… That felt GREAT! I felt useful, I made things easier, I enjoyed good company, I had good fun.
With multi-country business trips that spanned several weekends, I had a chance to learn about different approaches to exploring: about how to use hotels (the sort that are too cramped to linger in, and the sort that are a pleasure and destination of their own); how to pace myself based on my energy levels, moods, and the weather; how to go away for a weekend; and how to stay put.
Both on business and on my vacations, I learned about the complexity of traveling with others. Of how the wrong traveling companions complicate a trip, and the right ones make my experience of a destination better than I could have managed on my own. This last point is the best lesson: I do have a few friends whose company is great ON THE MOVE, and I should experience places with them more often!
I'll now return to my daydreams (and online research and list-making) of safe and enjoyable travel, with expectations well grounded by my actual travel experiences…