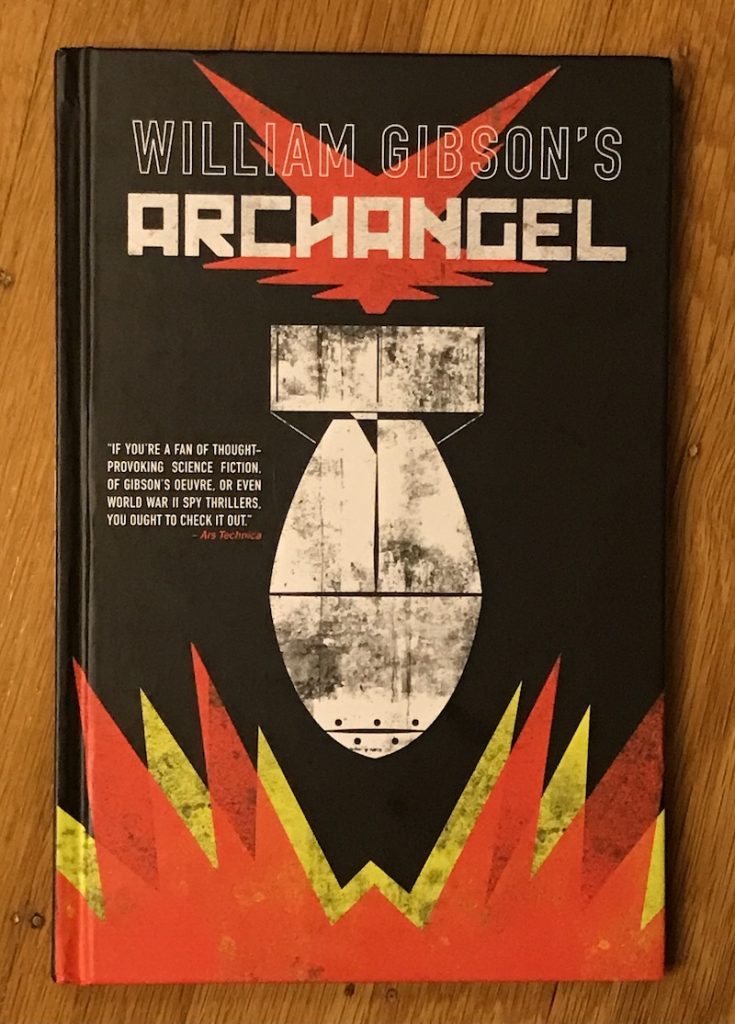 William Gibson's Archangel
by William Gibson, Michael St. John Smith, Butch Guice, and others
published by Idea and Design Works LLC (aka IDW)
2017
This World War II spy thriller incorporates William Gibson's recent theme of branching alternative futures in an action-packed, dark comic book.
A brief synopsis: a despotic American leader on a toxic earth goes back to 1945 to create a new branch reality in which he has even more power. A small resistance force plans to interfere…
The story is fast-paced, and the action is dense. The compositions are dynamic, with lots of diagonals, fists, kicks, and planes flying at steep angles. The panels are sepia-tinted and dark, with deep colors and deeper shadows. The characters have a lot of texture, shading, wrinkles, coarse fabrics, and the sort of surface definition that comes with harsh lighting. (Or orthochromatic film, which played such a big part in the noir look of movies of past eras.) The faces are expressive and stern. (Characters' faces sometimes look unfamiliar, which is a minor distraction in a solid series like this). The drawings set a really remarkable mood, and I'm especially impressed that I'm even THINKING about the coarse look of fabrics!
The individual issue cover art by Tula Lotay (tulalotay.com) is more vivid, with a different palette (remarkable greens and purples), and slightly different interpretations of the characters. These look fantastic.
This is a well produced, action packed, very William-Gibson story, but with WWII noir and timeline-splinters that started far back in time, which distinguish it from his other works. There are additional cover art panels and sketches of each of the characters the appendix, to round out your appreciation of the effort that went into this great book. I'm so glad I found the compilation!
Unexpectedly, IDW has very little promotional content on their website about this comic, but did produce a lightly animated preview!