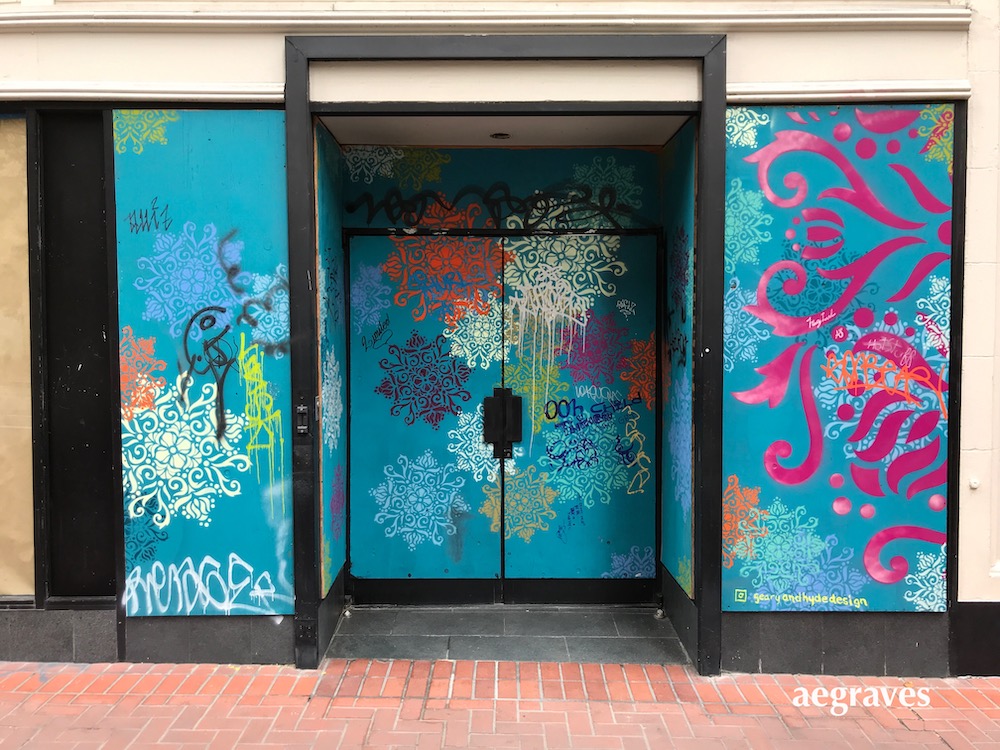 There was a brief time period today when objects in my neighborhood had shadows. It was gradual: the fog became very bright, and suddenly, everything had a defined edge!
It didn't last, and that's okay.
Yesterday, I escaped the fog bank by heading across town northeast, and managed to shoot film for one of my projects in bright sunlight. I was nice to experience that direct warmth, to see how colors pop and objects shine. (*fond sigh*) (You can see phone images from these field trips at the July 2021 section of mobilelene.blogspot.com.) It was also delightful to sit near the waterfront, hear seagulls, listen to water moving, and watch hundreds of people wearing Pikachu visors wander around, staring at their phones while playing some game.
I love this town.
I love so much about San Francisco, even while I'm able to see its flaws.
When my pen pals ask what it is 'like' to live in a famous tourist city, I tell them about the diverse local restaurant culture, farmers markets with farmers from around the region (including produce varieties you can't find in stores), large parks and widely accessible outdoors, local coffee roasters, bookstores, museums, universities, hospitals, mild climate year-round, a robust economy, a strong sense of community and volunteerism, and a welcoming, come-as-you-are cultural history.
The City's flaws are also present, though the pandemic has confused when/where they are most visible, with life disrupted for so many people in so many ways. These are the sorts of flaws that come to mind when you have sheltered visitors from out of town visit, where you try to figure out how to warn them away from dodgy areas and give them tips on how to cope with visibly unhinged people. Not all these flaws are of local origin: we have housing shortages in urban areas throughout the west coast, and a lack of mental health services throughout the country. We do try to manage them locally, and the pandemic has disrupted our solutions for those things, too!
I'm making time to get reacquainted and see what has changed.
Surface designed by the Master in Dr. Strange (not really)
Weblog by A. Elizabeth Graves. iPhone photography and links to science-y and foodie topics.
The City's structure is visually stimulating, and the combination of old and new buildings, spaces, and parks gives me a lot to see and think about. Buildings I photographed in the past have been wholly replaced; shipyards have been turned into parks; brick industrial buildings have been gutted and turned into luxury housing… there is always something new, something old has a new neighbor that provides an interesting new contrast to, or old things age in interesting ways.
ASIDE: This sort of renewal is healthy, though it often feels like it risks pushing key activities out of the county – it should be possible for light industrial to operate without being priced out, to have foods and tools and clothes and messenger bags made here, to roast coffee and sell used books, to NOT require every shop to sell something with an luxury brand logo on it.
We should have some economic diversity – you shouldn't need to be a brain surgeon to live here! If you think of wealthy communities down the Peninsula that are filled with brain surgeons, you realize that they have nothing to recommend them to visitors.
I missed having daily experiences of the City while I was a frequent business traveler at a prior job (especially from late 2013 through late 2018); I hoped to refresh my relationship with my hometown, yet missed it while working long hours in the first year of my current job (2019); I then couldn't access anything beyond my neighborhood during our stringent local COVID 'stay home' year (all of 2020 until May of this year), which was somewhat beside the point, because many of the indoor things I'd want to access were closed for our safety. So, as I go out now, seeing some favorite places still boarded up while others are back and lively, I feel that I need to refresh ALL of my local knowledge. Which is a good excuse to wander!