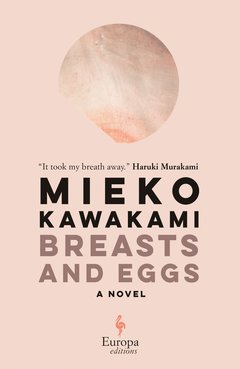 Breasts and Eggs
by Mieko Kawakami
translated by Sam Bett and David Boyd
published by Europa Editions, New York
2019
This award-winning novel tells the story of Natsuko, a young-ish-but-not-young writer who survived her youth of poverty and hardship, only to be uncertain of her purpose and judged by her peers for not living a conventional woman's life, as they have.
While Natsuko's dear older sister struggles as a single mother by working at a failing bar, repeating some of their mother's choices and hardships, Natsuko wonders if motherhood is the relationship that will fill her own life with meaning. While trying to come to a decision, Natsuko approaches those around her with something close to an interviewer's curiosity, as they reveal their own views, compromises, and dissatisfaction with their choices and obligations.
This novel manages to describe so much: abuse, living hand-to-mouth, the limited options available to women who leave their marriages, they way you can go back to your hometown (but it will NOT be the same), dreary literary readings, creepy pressures from relatives to bear children and tend to thankless in-laws, the (unnecessary and ruinous) shame associated with adoption and artificial insemination, and the atmosphere of countless rooms near train stations where people meet for coffee, rounds of cocktails, deep confessions, and inappropriate offers! (I am transported back to gray November days in Tokyo just writing this…)
The novel covers many years, and so many conversations, Throughout that time, season after season, the pressures on Natsuko to resolve her life situation (and/or finish her new book) never let up.
Breasts and Eggs is a well written, engrossing book about struggling to make a life that works while withstanding (gendered) societal pressures and writers block. It's well told, and I'm glad I read it.