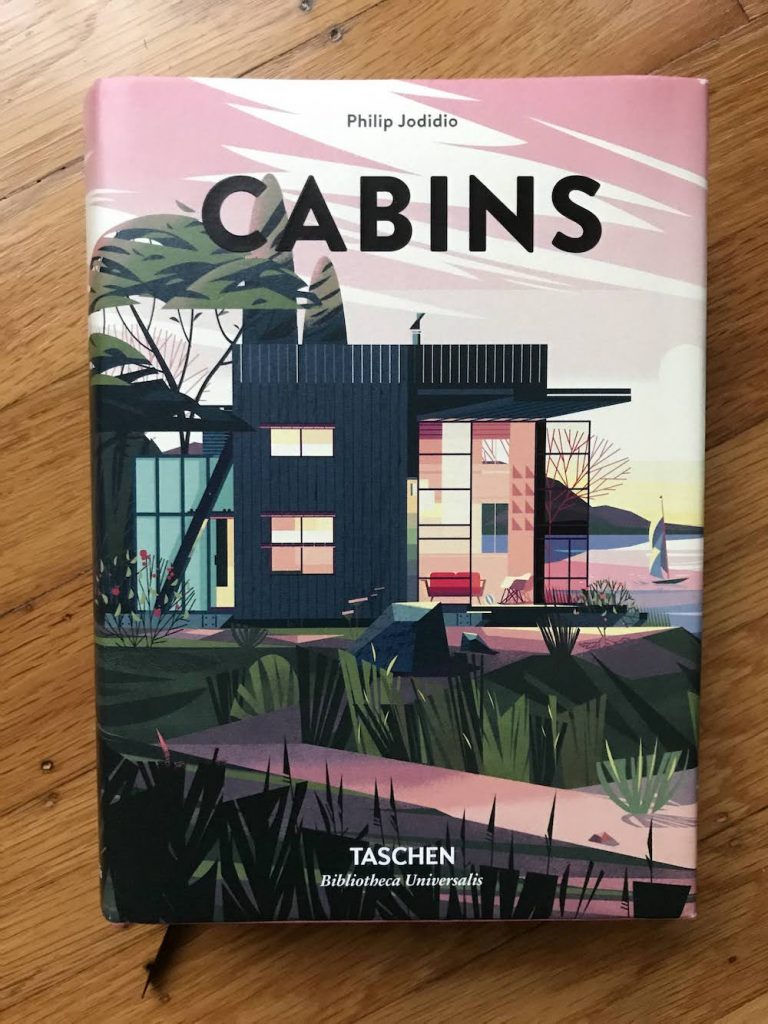 Cabins
by Philip Jodidio
published by Taschen
2018
This hefty, dense, trilingual (English, German, and French) volume features extremely charming illustrations by Cruschiform (Marie-Laure Cruschi), great photos, consistent and clear floor plans (!gasp!), and outdoorsy-buildings, only some of which are cabins.
While the promotional text discusses rustic simplicity, and there are a few rugged/utilitarian structures, MOST of these aren't modest buildings you could track mud into. I mean, there are some without heating, or that are only intended for seasonal use, but many are fully developed, large, contemporary homes for the well off.
I adore this "boathouse," but we have boathouses in our public parks here in SF, and they are basically uninsulated garages for boats that are rusting and have bird poo on them. They don't look like this: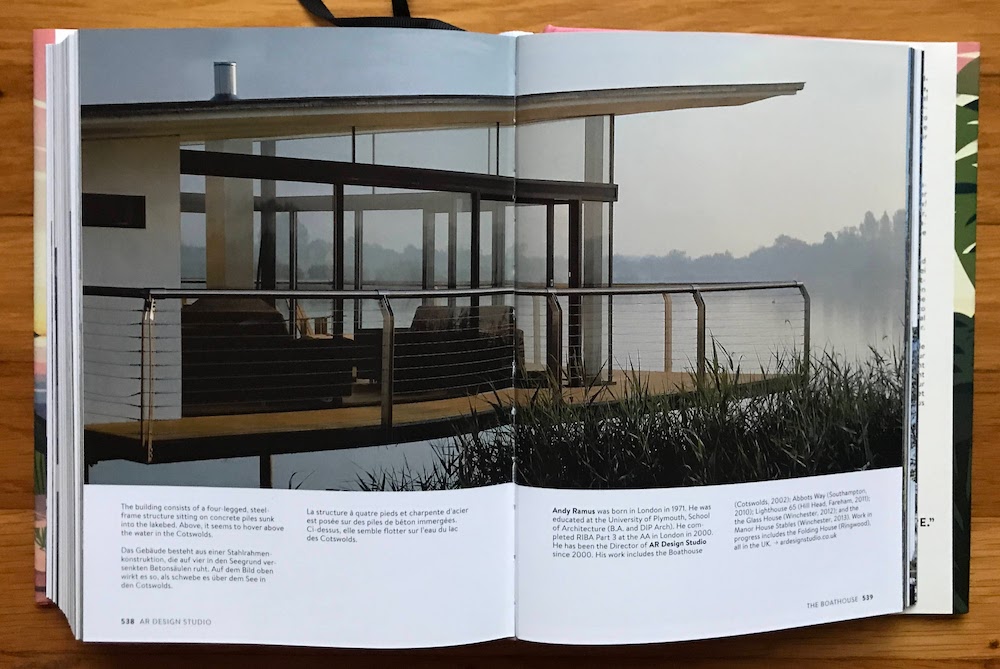 The design of the book is great – the illustrations are stylish, fun, colorful, and provide clear transitions between projects. The consistent floor plan graphics help explain how the buildings should work. The index is well organized, and the essay at the front is worth a read.
The projects themselves range from translucent structures that you can camp in, to wine country vacation homes, to buildings where you could live normally, to those that are better suited for 'glamping' (pretend glamour camping). There is at least one where I can imagine snowshoeing in from the edge of the property with a sled full of cocktail ingredients and catered food, though unpacking supplies in the immaculate kitchen that appears to have no food preparation tools of any kind would be daunting. 🙂
It's difficult to tell what the criteria for SUCCESS in the design category is. The program for a cabin (a real cabin) is looser than one for a home, but that leaves their utility ambiguous. Are we snow camping, or are we entertaining? Can our older parents visit, or is it too difficult to access? Is it comfortable for a weekend only, or a week, or a month?
The structures that are fully furnished are easier to interpret – I know my parents could sit down without me having to bring furniture, so that's great. Some bedrooms are completely filled by a bed. Why? Should you need to leave the bedroom to open a suitcase and dress? Should you need to climb a ladder into a loft to sleep? Does the enormous trap door in the floor without railings feel sketchy when you're hauling in your supplies? Is a glass-enclosed bath a great idea if your parents are visiting for the weekend?
The client's desires and goals for using the space are mentioned at various levels of detail, but without giving away too much, I'd love to have a scorecard to compare the programs on a practical level, considering the range of projects. Accessibility (how able-bodied do I need to be to get in, and how many stairs am I hauling supplies up), is there enough floor space to dress in the bedroom; is there enough light to read; is there space to draw/paint/write; is the temperature range comfortable in its intended seasons, is there any storage space for the outdoor gear you need to get there… This would be especially valuable because of the glossy architecture magazine convention of showing most of the spaces without human occupants, without normal personal possessions, and without any normal living functions being performed.
This is a fun collection to leaf through, and I do have at least one new Swedish island cabin getaway fantasy now, so I think this book has accomplished its mission.