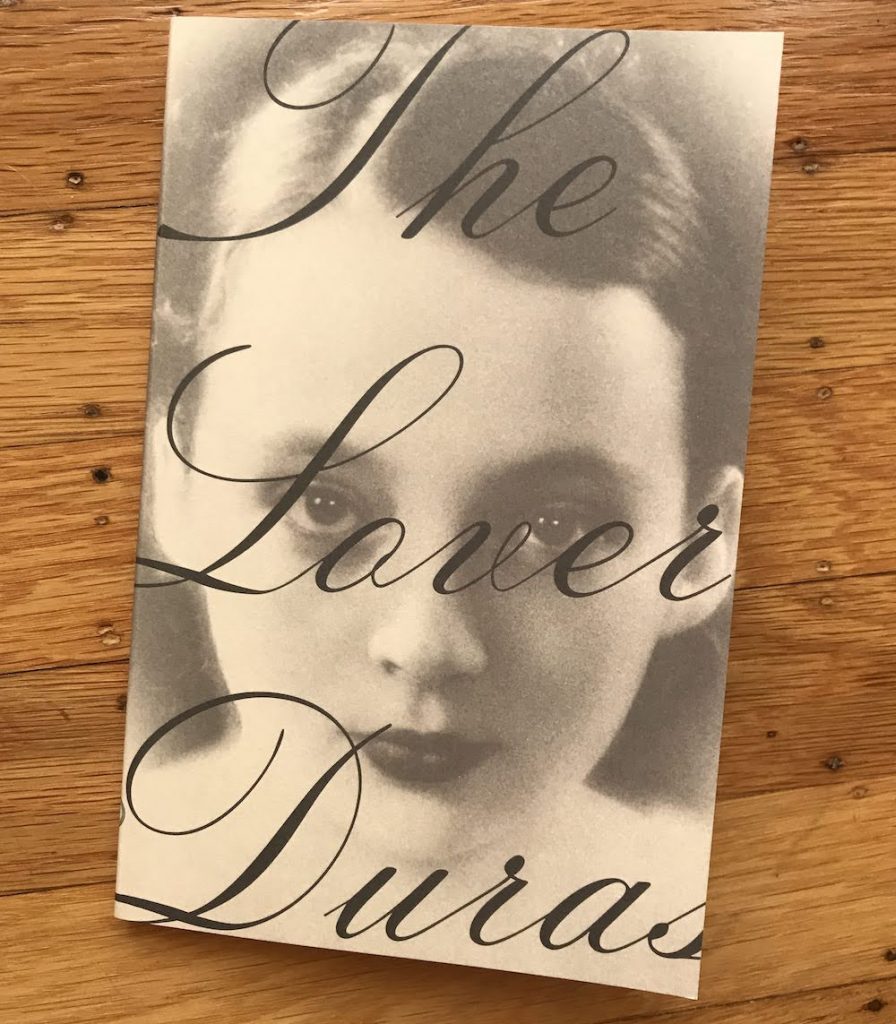 The Lover
by Marguerite Duras
translated from French into English by Barbara Bray
published by Pantheon Books, NY
1985
On the paths of the yard the shadows of the cinnamon-apple trees are inky black. The whole garden is still as marble. The house too – monumental, funereal. And my younger brother, who was walking beside me, now looks intently at the gate open on the empty road.
Note: This edition of Duras' concise novel includes an introduction by Maxine Hong Kingston, who advises us to interpret the novel as autobiographical, which I might not have done otherwise. She also observes parallels with Duras' screenplay for Hiroshima Mon Amour, which I've read, and her observations gave me insights about Duras' life.
If there was a character limit to my remarks about reading this book, I would write something like: at-risk French girl in occupied Vietnam escapes her unhappy home by sleeping with a meek older man; a dire situation, beautifully described. Unluckily for you, I can write all the words I want!
Through a series of increasingly vivid memories that drift forward and back in time, Duras' novel tells the story of an impoverished French teen in French-occupied (colonial) Vietnam, living with her deeply depressed mother, two brothers, and a her own developing awareness of mortality. (So FRENCH!)
Our unnamed character's life is tenuous. She wears her mother's old, threadbare clothes; the family struggles on her mother's schoolmistress wages after her father's unexpected death; a sense of doom hangs over the family; her mother not only falls frequently into immobile despair, but also spoils her sons while pressuring her daughter to make up for their failures.
Her escape: to get into the limousine of a nervous, fellow foreigner, but one who is not French: a wealthy Chinese man, entirely beholden to his father, but also inappropriately smitten at first sight of this inappropriately dressed, quite underaged teen.
The novel is often (but not always) a first person narration, centering the girl's alienation from Vietnamese culture and her own (French) family; the alienation of remote colonial life; the constraints of poverty; the scarring, emotional tensions of her household; her self-enforced emotional distance from her unsuitable lover; the pain of her mother's exploitation; and always – always always – a sense that everyone will die and all things must end.
The prose is visually rich and lightly punctuated as the narrator moves from awkward social interactions of German-occupied France in adulthood to afternoons of being fully absorbed by illicit sex in Vietnam; from invisibility to parental approval for all the wrong reasons; forward to deaths, and backward to youth. It starts as a novel, and winds up a vivid, non-linear series of beautifully described recollections.
It absorbed me completely, and I'm glad I read it.