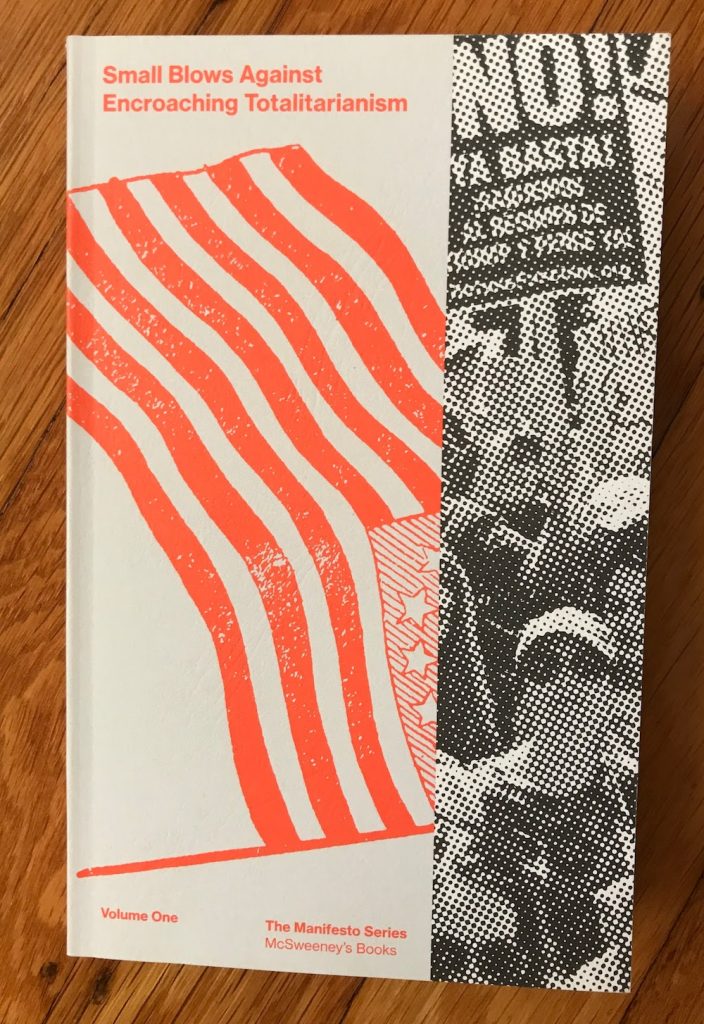 Small Blows Against Encroaching Totalitariansim, Volume One
from McSweeney's Books and 22 contributors
published by McSweeney's Publishing
2018
This compact collection of heartfelt essays was compiled after the first year of DT's presidency. Each essay concisely (in as few as two pages!) reflects the individual inspiration to vote of a range of writers, poets, and journalists.
Their inspirations and concerns are diversely progressive: calls for kindness, democracy over fascism, the potential of refugees and immigrants to achieve their dreams, the injustice of war, the ongoing fight for LGBTQ+ liberation, the reclamation of language, the climate crisis, science, and more.
I used to think of collections like this as merely 'preaching to the choir,' but I now appreciate the sense of community and thoughtfulness they provide in a landscape in which perhaps 40% of the country believes in conspiracy theories and white supremacy.
(I was certain I have Volume Two, but it is small enough to be hiding in any number of caches of books around my home… If I can find it, I'm sure I'll find some solace in it.)
A subtext to the essays, delivered directly or implied : DO YOUR PART TO MOVE US FORWARD. Real change won't happen without you!