I'm one of countless people who admired and adored US Supreme Court Justice Ruth Bader Ginsberg, and her death yesterday comes as a terrible blow in a year of terrible blows.
She was an ICON. A heroine. A legend. A force for progress. Someone for whom people without specific religious beliefs prayed.
She worked in law, and was LOVED.
Her work, even before she joined the Supreme Court, CHANGED THE WORLD FOR THE BETTER.
I recommend this tribute/history:
The most important feminist lawyer in the history of the American republic has died. Ruth Bader Ginsburg, a supreme court justice and singularly influential legal mind, was appointed by President Bill Clinton in 1993, the court's second-ever female justice, and served for nearly 30 years. She passed away due to complications from cancer on Friday.
I used to post quotes from her dissents to my office door, back when I worked in a law firm. I loved her writing! I loved her irrepressible fight do to right by people! And her writing was so sharp, so pointed, so clear, so well-reasoned…
This tribute is adoring:
A few weeks ago, Ruth Bader Ginsburg officiated the wedding of a family friend. She looked as brilliant as she always did, and as tiny. A photograph circulated on social media, Ginsburg in her white collar behind a lectern, and the responses were joy giving way to panic.
I especially like this excerpt: "A gay man once told me that he had an elaborate fantasy in which he and his friends could swathe Ginsburg in bubble wrap and then carry her, in a careful phalanx formation, up and down the steps of the court each day for work. He was laughing when he started sharing the fantasy, but by the end, he was crying. He needed to believe in this version of reality, in which there was a way to extend her life indefinitely, in which six or eight gentle gay men could somehow keep the person safe who kept the country safe, in which hope could be suspended above their heads in bubble wrap."
This morning, to help me process the loss to my country, I went on Twitter and actually found comfort in the community efforts to celebrate her life. (You know times are hard if you turn to TWITTER for comfort!)
Her rest is earned. It is our turn to fight.
I know the popular analysis is going to be "we're screwed," and I *feel you.* But nah. RBG didn't go out like that and neither are we. I'm not speaking that, and I'm not believing that. We gon fight. That's what we're gonna do.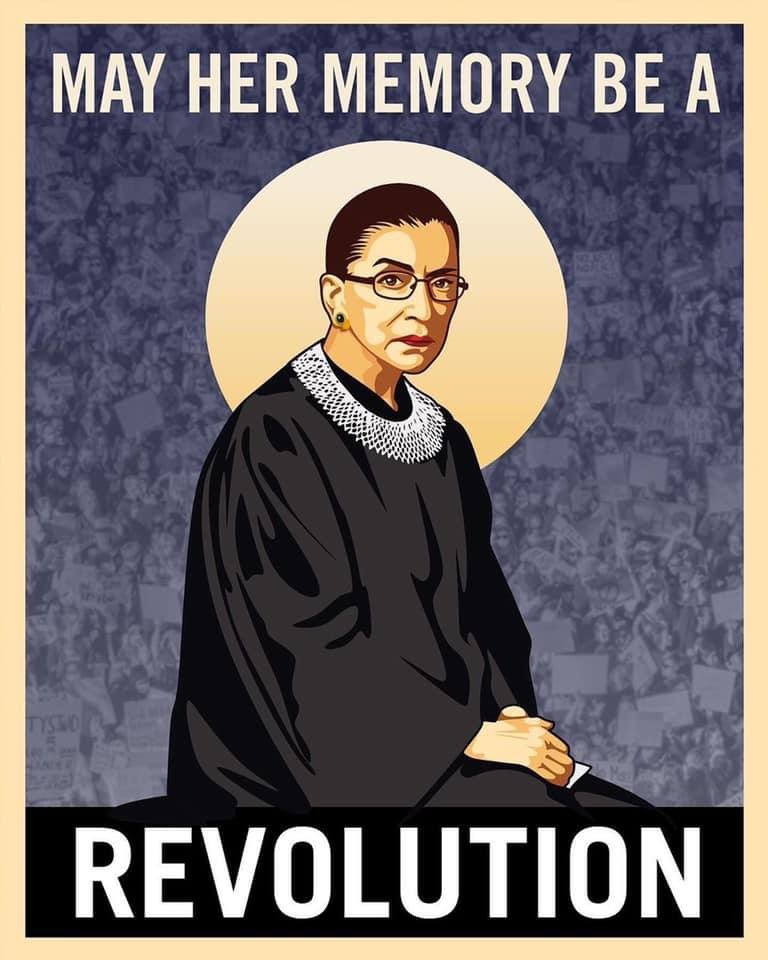 One of the themes that came through Twitter among progressives is that our system is broken if one woman's passing can create so much fear and dread for the future. Our future should not depend on any one person.
There is so much to fix, and so much work to be done. Go find a way to do your part. AND VOTE.