I got through all 138 pages of this! JUNE MEDICAL SERVICES L. L. C. ET AL. v. RUSSO, INTERIM SECRETARY, LOUISIANA DEPARTMENT OF HEALTH AND HOSPITALS (supremecourt.gov/opinions)
Yes, I was that person who would post great quotes from Supreme Court decisions on my door at work when I worked at a law firm. Yes, especially if you have to write a lot of briefs, these decisions are INTERESTING to read.
This decision was an unexpectedly positive result for people who want women to have reproductive choice rather than forced births due to restrictions that do not improve healthcare, while pretending to be for women's protection. This case was about whether the Court will follow other recent precedent for a NEARLY IDENTICAL law that was already deemed unconstitutional, what the role of the Supreme Court is and what matters were before it, who has standing to litigate abortion rights, and what happens next.
My notes from reading:
OPINION BY BREYER: this is just like Whole Women's Health v. Hellerstedt, and so it's unconstitutional. Undue burdens galore. Also, there were no errors by the District Courts on the facts, so we shouldn't dwell on those, even though they're really good here in showing that the admitting privilege law doesn't benefit pregnant people. (pages 1 – 45 of the PDF of the decisions linked to above)
CONCURRENCE BY ROBERTS: I didn't agree with Whole Women's, but it is a precedent, this law is nearly identical, and so we must follow Whole Women's. Substantial obstacles are unconstitutional. However, here is a master class on all the abortion restrictions that were good, and cases should really be more like those. (pages 46 – 61)
DISSENT BY THOMAS: These plaintiffs don't have standing. (Footnote, we should be this nice about standing for guns. Waiting for Godot joke here.) "Our abortion precedents are grievously wrong and should be overruled." Things have been bad throughout the 20th century, and we should really consider what people intended in the 1860s – these are not part of the "inheritance from our forefathers." (Not a typo! 1860s!) (pages 62 – 81)
DISSENT BY ALITO: But the law PROTECTS women! No, really! Notwithstanding all of the District Court's finding of facts to the contrary, they do! Also, no one proved that a law that was bad for one state is bad for another. And these doctors did not try hard enough, notwithstanding all of the findings of fact of the obstacles they encountered while the District Court watched, including documented hospital policies explicitly saying they can't have admitting privilege if they do the only they do for a living. Also, they have no standing, because they don't have a close relationship with their patients. (pages 82-115 and all agonizing to read)
DISSENT BY GORSUCH: The law protects women, notwithstanding the findings of fact, and we should defer to the legislature. Also: no standing (no close relationship). Also, we focus too much on people (a "substantial number" or "large fraction") who are unreasonably burdened, when some women won't be! And maybe everything will change, and maybe the hospitals will spontaneously develop new policies, and maybe there will be new clinics popping up just because – what about that speculative possibility? Doesn't the market fix everything? (pages 116 – 136)
DISSENT BY KAVANAUGH: We need more facts before we can decide on this law. I have doubts about those admission privilege efforts the doctors made. (pages 137 – 138)
I have some favorite parts of Breyer's opinion.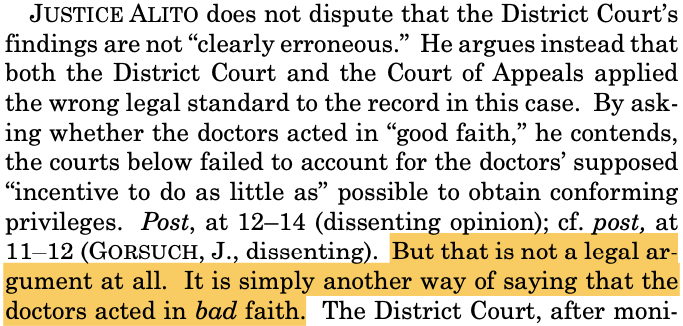 Here is the Rewire News half-hour reaction podcast, which I love for the combination of legal nerdery plus celebratory profanity:
A crowd rallies outside the Supreme Court during the arguments for June Medical Services v. Russo. Photo by Eric Kruszewski U.S. Supreme Court Justice Stephen Breyer has done it again! BREAKING NEWS: Supreme Court just confirmed what we all knew: Louisiana's anti-abortion law is UNCONSTITUTIONAL.