Tumblr is a site famous for sites/pages dedicated to a single topic, with great enthusiasm. A friend shared this link, in which a fan of David Bowie and the glamorous nudibranchs (which are soft, festive molluscs), found a way to match particular outfits of Bowie's with a corresponding nudibranch. (And here I've just been using software to identify wildflowers!)
I find the site adorable. The author, Hannah Weller, is obtaining appropriate source credits for the images, which is always a good thing!
Pantone predicted this. and now, perhaps the most vital work I will ever do: using colordistance to objectively prove which David Bowie outfit most closely matches a given sea slug.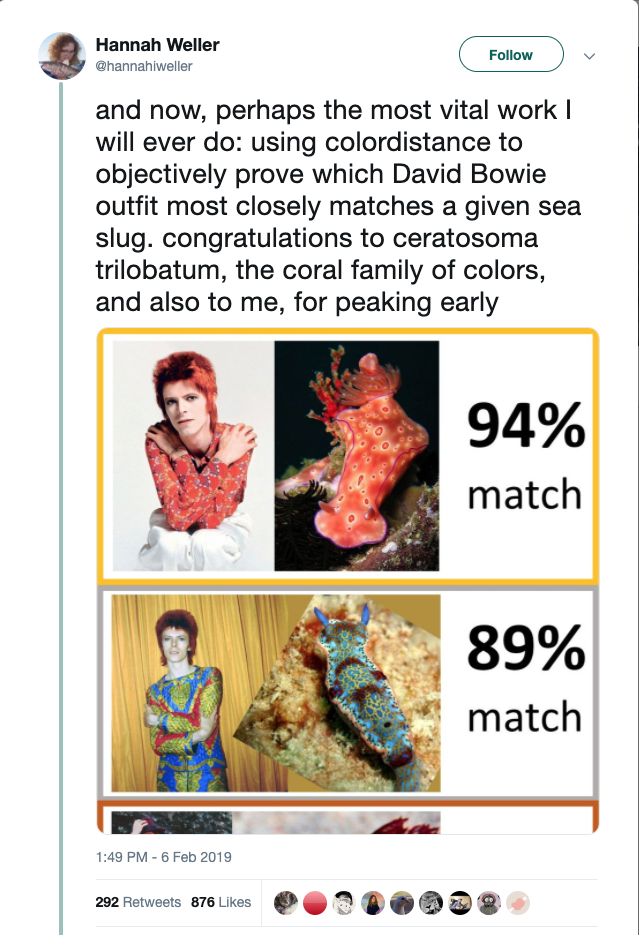 She is a marine biologist, and of course you can follow her on Twitter.
The latest Tweets from Hannah Weller (@hannahiweller). 🐠 PhD candidate @elbrainerd lab, studying how behavior ↔️ morphology by way of mouthbrooding fishes🐟 image processing enthusiast 🤖 ginger nut 🍪. Providence, RI