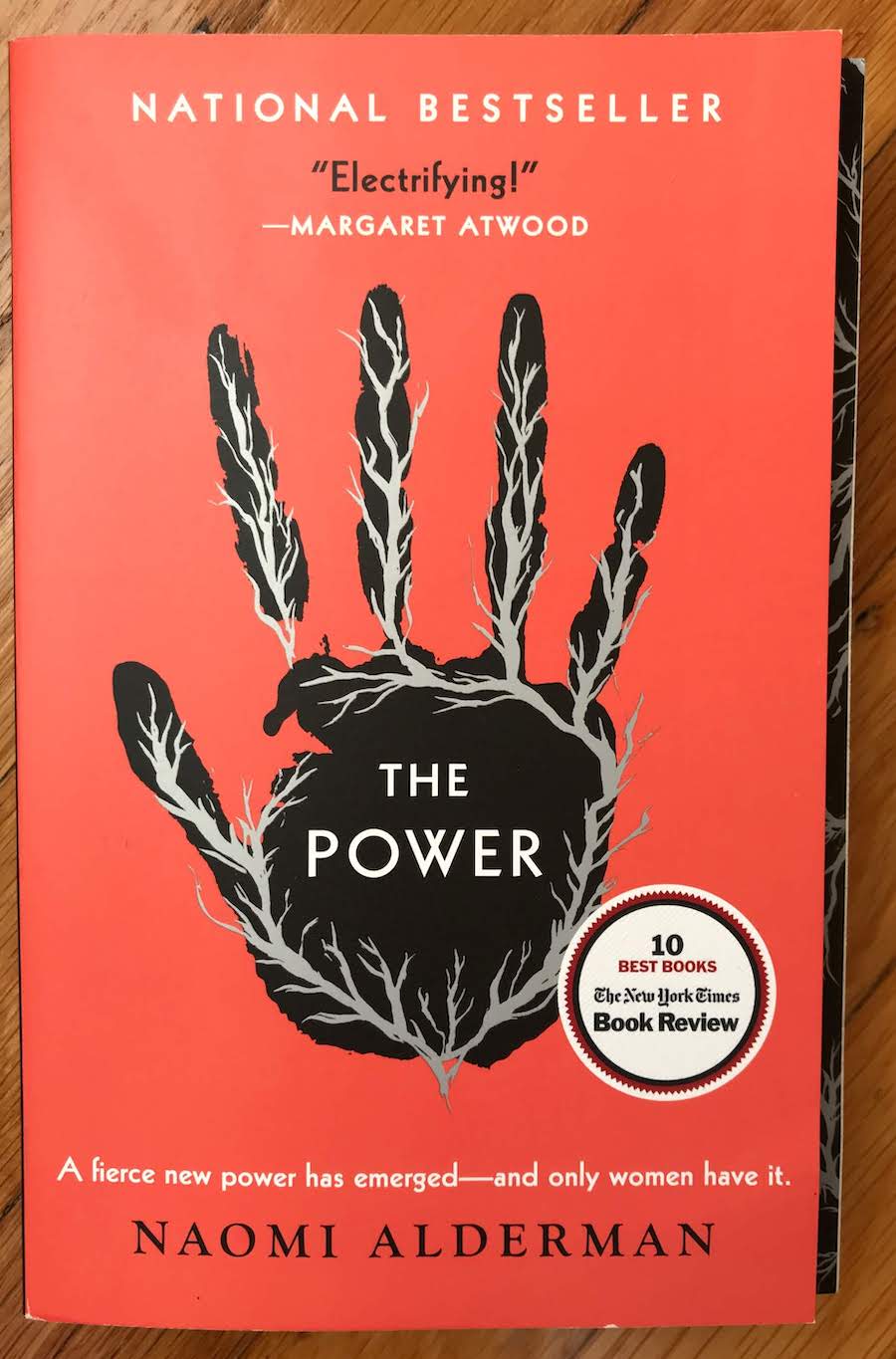 The Power
by Naomi Alderman
published by Back Bay Books (Little, Brown and Company)
2016
What would happen to the structure of society if women had the physical power to defend themselves, or even routinely overpower men?
In this engrossing novel, women develop the ability to generate electricity. Humans already have a lot of electrical wiring internally, but in the book, a scientific intervention intended for one purpose may have inadvertently given rise to the ability for women to generate and control electricity, an have the ability to taze at will from puberty onward.
This changes the world.
The story follows several women, both privileged and disadvantaged, comfortable and abused, in the spotlight and sidelined, who find different ways of utilizing this development to influence the direction their societies evolve in. The story of an intrepid male reporter from Lagos also provides a sympathetic (and at times, alarmed) point of view.
Alderman does a remarkable job of showing the RANGE of impacts that could arise, from fiercely patriarchal societies harming or killing women to maintain control, to government leaders militarizing this new ability; from women who use moderation in utilizing their new powers in societies that have included them, to women who wreak vengeance upon their captors and oppressors in societies were they functionally enslaved.
The way the book ends… just be sure to read what looks like an appendix, but is a key part of the story.
Yes, I'm sure Margaret Atwood is DELIGHTED that she got to make such a concise review-and-play-on-words about this book ON THE FRONT COVER.
As someone who has daydreamed of subtly engineering women to be stronger to decrease abuses, do I think that power struggles could play out as they do in this book? Yes, and perhaps Alderman is more realistic than I am, considering history. When have the powerful ever shared power willingly and peacefully? When have enslaved people ever received justice? When have oppressors ever willingly made amends? My own dark futures in fiction are dark DIFFERENTLY, but yes, I think we agree on the backlash. Because: humans.
Also note: read the acknowledgements. No, really.
Summary: a page-turner of a book with a thoughtful story arc for the characters, thoughtful (and very dramatic) implications across the wide range of conditions, and a dark view which is entirely fair, considering the state of the world. I'm glad I read it.