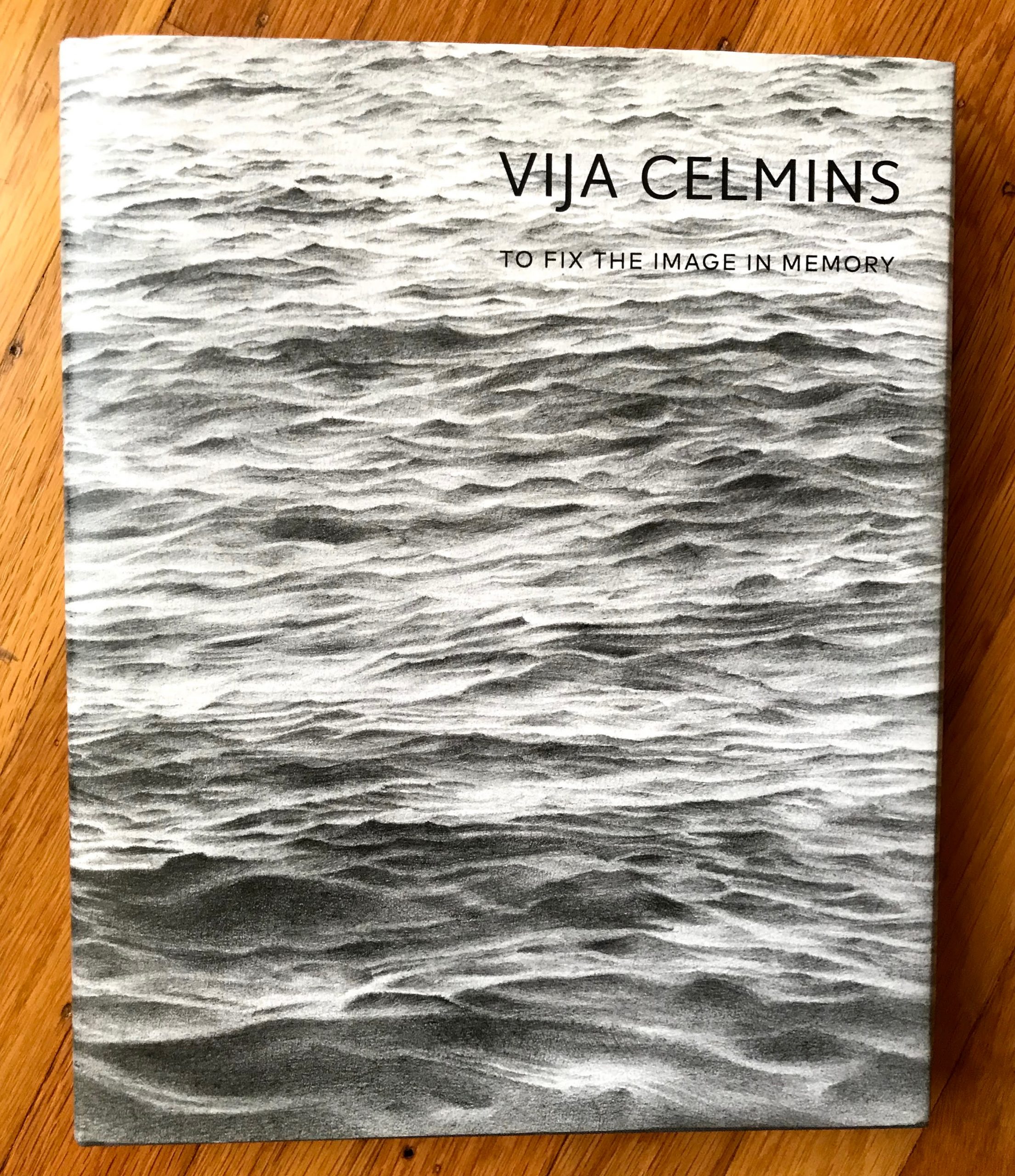 Vija Celmins: To Fix The Image In Memory
edited by Gary Garrels
published by San Francisco Museum of Modern Art, in association with Yale University Press
2018
In late 2018 & early 2019, SFMoMA had a fantastic exhibit of the art of Vija Celmins, and that show led to the publication of this enormous, substantive catalog of her work. It contains essays with a broad range of interpretations of her catalog, high quality reproductions, a collection of insightful interview excerpts, AND a biographical timeline that is unusually well written. It is one of the better catalogs I've purchased, and after enjoying it in small servings since the viewing the exhibit in person TWICE (it was that good), I read it from end to end today.
There is something remarkable about Celmins' artistic focus. She has created a range of work to show off her skills, but her long term commitment to drawing and painting certain subjects, such as the surface of the ocean or the depth of the sky, in a very particular method, has led to a profound body of work. It is remarkable to have such a range of skills, to have shown them off through solid early representational work in oil paints and remarkable sculptures (though she considered those drawings or paintings of a sort), and also to perform time-consuming, in-depth studies of a few subjects in graphite with such SATISFYING results, all while bucking other artistic trends, and maintaining a unique "voice."
I'm old enough to have trained in architecture back when we actually drew (no, really), and so seeing such amazing work in graphite means something to me – it's a medium I worked in for so many years… and she does wonders with it.
The graphite drawings in particular are inspiring and gorgeous in person. From afar, they are the sea; from up close, they are the texture of graphite on paper; and you can feel yourself slipping between the two understandings, especially around the edges, and being pleased with that experience.
Her pictures of the surface of another planet are also remarkable, and you realize after viewing several that you recognize specific rocks appearing in the drawings, because the rocky landscape is NOT a random drawing of high precision, but a high precision interpretation of a specific NASA image, methodically mapped out and reinterpreted in different weights of pencil, or from a closer point of view.
The reproductions would have been satisfying enough for me, but the texts, including the interview snippets on her NEED to do this work, and on the way drawing and painting on these projects became part of her way of living in awareness… it's all quite informative.
I love her consistency; the way she challenged herself by changing media when the time felt right; the depths of the blacks in her drawn skies; the inverse skies she created recently… there is a lot to enjoy.
Great artist; great show; unusually satisfying catalog.