I did not enjoy the month of January.
I'm not saying I didn't have some good days, but the world and my country had some UNUSUALLY BAD DAYS, and so the math is unfavorable.
Beginning of the month: right-wing threats seemed to flood social media sites, egged on by the now-former president. I'd already been stressed by his 'even if I lose I will stay' rhetoric dating back to last summer, and no one seemed to be taking it very seriously. The lack of attention to on-line rhetoric was alarming.
January 6th: my midday meeting was interrupted when the partner of the person I was meeting with walked in to say that the US Capitol building was being attacked, and perhaps he could give that some attention? That was the beginning of many hours of horror.
January 8th: while the people who violently attacked the Capitol had been allowed to wander away freely, which was exasperating on every possible level, the US hit a daily death rate of FOUR THOUSAND PER DAY.
U.S. tops 4,000 daily deaths from coronavirus for 1st time
By EUGENE GARCIA, LISA MARIE PANE and THALIA BEATY
January 8, 2021 at ap.com
January 15th: The official global death tally from the COVID-19 Pandemic hit 2 million.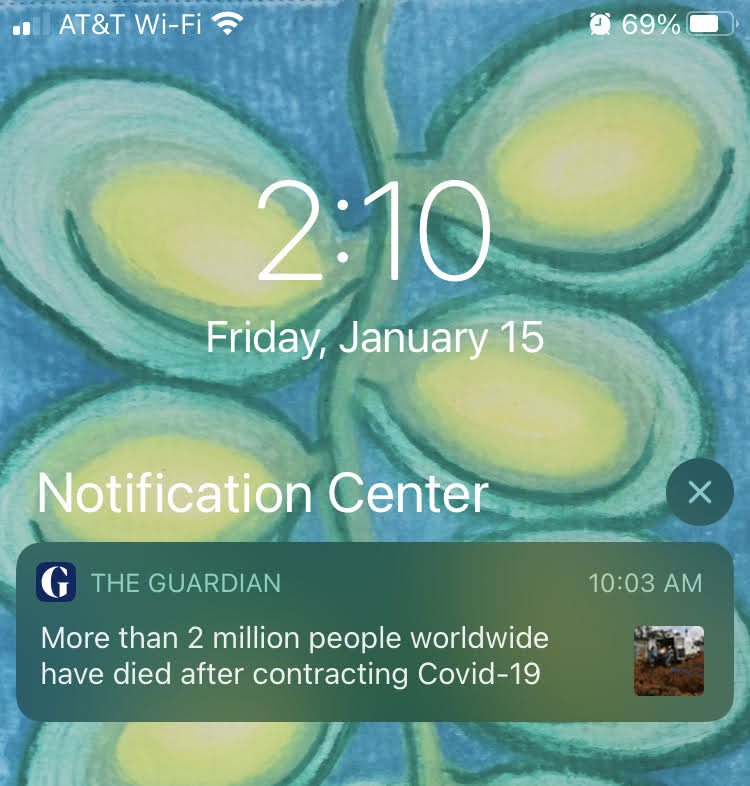 Global report: coronavirus death toll reaches 2 million
Tom Phillips, Guardian (guardian.co.uk)
Sat 16 Jan 2021 00.21 EST
January 19: The US hit an official death toll of four hundred thousand.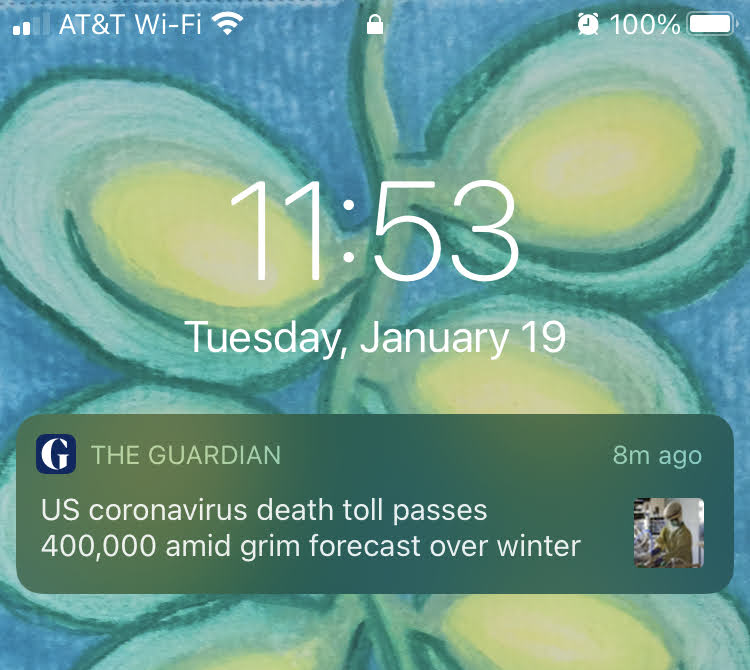 US coronavirus death toll passes 400,000 amid grim forecast over winter
Jessica Glenza, UK Guardian
Tue 19 Jan 2021 14.42 EST
That was ALL TOO MUCH. Plus, local COVID cases spiked again; another dear friend remained sick with COVID-19 for the entire month of January in a city with no hospital capacity; plus the US went on high alert once the authorities decided to actually read the threats against the government that people had been making online, and nearly every state had some threat made against their capitols and other government offices.
Yes, the Inauguration on January 20th went VERY WELL – it was great – and a relief! – to watch, and nearly impossible to concentrate on anything else. Yes, the new government appears to be off to a coherent, sane start.
Yes, my friend is still on the mend, and hasn't had to be hospitalized, despite some worrying symptoms.
Yes, I made a ton of art on the weekends, which allowed me to turn my attention entirely into paint, color, and forms, and away from the madness and sickness that dominates the news.
But… I wouldn't want to experience January 2021 again.