the wonderful world of food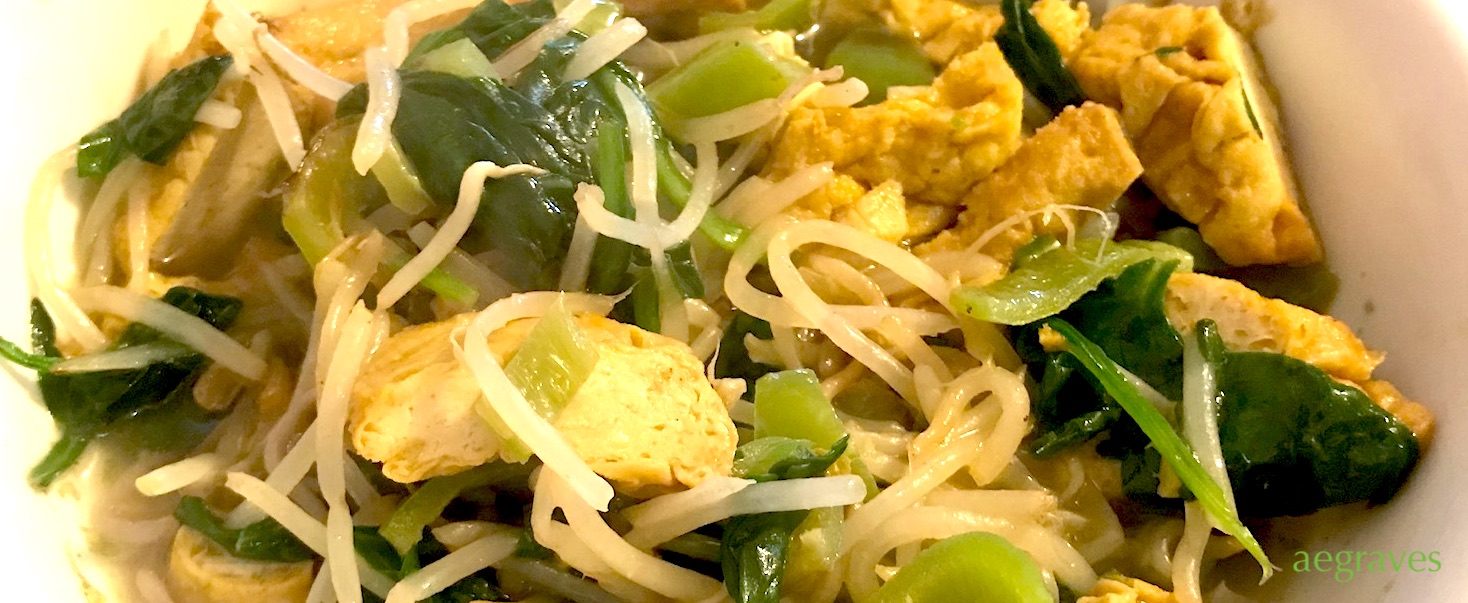 I believe in enjoying food. I enjoy fresh, ripe avocados, firm pastas in rich tomato sauces, spicy enchiladas, fiery curries, crunchy noodles, filling burritos, and crisp green salads. I live in a state where food freshness is valued, and in a city that is a sort of restaurant mecca, which has allowed me to sample fabulous foods from all over the world.

Allow me to share my food love with you on these pages.

I eat a wide variety of foods, most of which I make myself. Eating out can be fabulous, but restaurant food is often like banquet food: expensive, unusually rich and heavy, and more complicated than the simple, homestyle food I crave.

I'm an herbivore, a vegan-leaning vegetarian. I think vegetarian and vegan foods are the best kind of foods in the world, based on earth's fabulous and wildly varied bounty. There's a long tradition for the kind of diet I have in most places in the world, and a wide range of delicious food choices for my enjoyment (and for yours!).

"Vegetarian!? What do you eat?" I have many personal favorite foods. I'll list some of them here.

My diet includes:
Asian-Inspired Foods (generally served with rice)

pea shoots with garlic
Thai green veggie curry (mixed veggies in a coconut milk sauce)
saag aloo (stewed spinach with onions, tomato, potatoes, and spices)
baighan barta (stewed eggplant with onions, tomato, and spices)
broccoli and tofu in black bean sauce or Vietnam-style chili garlic sauce
rahmen noodles with vegetables
bok choi with garlic or peanut sauce
miso soup with tofu, wakame, and spring onions
tempura donburi (batter fried veggies over rice)
Tibetan noodle soup (spinach, noodles, tomatoes, garlic, ginger, and chilies...)

Central American-Inspired Foods

stewed black beans with rice
zuchhini enchiladas with a salsa fresca
mushroom enchiladas in chile negro sauce
butternut squash enchiladas in winter red sauce
guacamole

Italian-Inspired Foods

lasagna made with spinach, roasted red peppers, artichoke hearts, and a tofu "ricotta" containing garlic and herbs in tomato sauce
spaghetti marinara
linguini al pesto
pasta salad of marinated artichoke hearts, kalamanta olives, and roasted red and yellow peppers
fettuccini con olio (with olive oil and garlic)
rotini with green olive pesto
margherita pizza (tomato sauce, mozzarella, and basil leaves)
pizza wth tomato sauce, mozzarella, artichoke hearts, black olives, and crushed garlic
tofu and spinach ravioli in tomato-basil sauce
penne in mushroom tomato sauce

All sorts of other foods

Greek salad with lettuce, kalamanta olives, feta cheese, bermuda onions, and a balsamic dressing
veggie burgers
potato salad
marinated eggplant sandwiches
haraira (a middle eastern soup)
sushi (shiitaki maki; avocado maki; kanpyo maki; horenso maki; veggie futomaki; etc.)
avocado sandwiches on whole wheat with sprouts (you were waiting for some sort of sprout reference, weren't you?)
oatmeal with brown sugar and nutmeg or cinnamon
dal
massive veggie burritos with beans, rice, guacamole, lettuce, tomatoes, and hot salsa in a flour tortilla
homemade pies: apple, apple cranberry, pumpkin, butternut, and peach
fruit sorbets
and much more!
My absolute favorite cookbook is the Kopan Cookbook, by Betty Jung. I've gone through phases where I wanted nothing more than to eat recipes from this book every day! It's a small and charming book of recipes from the Kopan monastery in Tibet, all based around a spice mixture you'll need to make in a blender or spice grinder (it's worth it). The recipes are fresh and fortifying, and most take relatively little time once you have all your ingredients ready. The soups, such as a Tibetan noodle soup with spinach and tomatoes or a curried mashed potato soup, are especially satisfying.
Another cookbook I used quite frequently is Vegetarian Times Cooks Mediterranean, from the authors of Vegetarian Times Magazine. This book contains the recipes I use to make homemade pizza (I hadn't realized it was so easy!), some North African soups, polenta, quiche-like tarts made without eggs, cous cous, paella, and other dishes.
Rounding out the most roughed-up part of my cookbook shelf is The Best 125 Meatless Pasta Dishes by Mindy Toomay and Susan Gesikopf Hadler. The exotic pestos are simple and fabulous, the spicy eggplant pasta salad with Kalamanta olives is excellent, and even pasta soups like curried carrot with cous cous are great. I eliminate the salt recommendations from most recipes, at least until I taste them: the cooks like their dishes a bit saltier than I do.
I also like The Savory Way by Deborah Madison, the author of the more complicated Greens Cookbook. TSW is full of fresh, straightforward recipes that involve just a few ingredients and yet have very rewarding and novel flavors. Everything I've made from this book has been a treat (except for when I lost track of what I was doing, and doubled the amount of water used in the garlic soup). These recipes are much quicker to work with than those of her restaurant based cookbook, which makes sense.
I have a dozen or more other cookbooks, each of which has its strong recipes, but those are the ones that consistently deliver foolproof recipes. I recommend them highly! I also recommend going to your local library and reviewing their selection. You can test drive them, or get that ONE recipe that makes you want the book. Or, for items like the Larousse Gastronomique you can just study, laugh, and copy all the sorbet recipes. You might also be able to save yourself some trouble. In the past, I've checked out fabulous books on Scandinavian baking, only to discover that everyone around me immediately gained several pounds as I practiced making danishes. It was better that I didn't own that book!
I've had mixed luck with recipes provided on the web. My intuition is getting better about warning me away from recipes that seem to lack something important. Whenever I have found a recipe on-line that I loved, I gushed about it on my weblog (now archived for your enjoyment), Things Consumed.
My blog is about "edible treats, eye candy, and food for thought," so if covers quite a few topics beyond food. But for foodies, here is an index of recipe highlights from my blog's inception in July of 2002 through July 2008.
My Recipes
All of my recipes are vegetarian; many are vegan. Note that, after 2014, my healthcare providers recommended I follow a low FODMAP diet, which requires the reduction or elimination of wheat, onions, stone fruit, unprocessed legumes, and a variety of other items that are featured here. I expect to produce vegan-friendly low FODMAP recipes in 2019 and thereafter. Stay tuned. :)
My Food Features
I realized that most of the things I write are food features, and it's most likely you'll come across something you like just by browsing. So this is a very short list of a few special features.
Note: this page used to include restaurant recommendations from various places where I have visited. Those just aren't up to date: you are best off using a service like Yelp (yelp.com) or TripAdvisor (tripadvisor.com) to determine what is open and what visitors say about them.

refreshed in February 2019