Books

I've loved books since I was very small. I didn't just love having my parents read me bedtime stories, I loved the physical books themselves. When I was extremely young, I sometimes loved books zealously with crayons, but I moved past that to a bigger kind of love.
The entire idea of being able to record complex concepts with written symbols and distribute them on paper is just amazing to me.
I have been an avid reader most of my life, and remain enamoured with the idea of the book as a major part of the culture of ideas. Being able to exchange thoughts with people from different places and times is one of the best aspects of being human. Exchanging books can lead to concepts and ways of looking at the world that our own experiences would not otherwise permit.
I will share some of my enthusiasm for books here.
I've had a library card since childhood, and the San Francisco Public Library system provided me with a mind-boggling selection of books. A librarian at the Mission Branch even set aside books she thought I would enjoy throughout my childhood, especially young adult "message" books intended to steer me away from trouble. My weekly book-gathering trips in summer, and monthly library trips during the school year, kept me reading continuously. I wouldn't have been able to afford to keep up with my reading habit if it weren't for libraries, which I treasure as a fabulous cultural resource.
I started buying books in large quantities in high school. My allowance and summer jobs expanded my budget, and my favorite authors were in the habit of releasing long, multi-book series which libraries didn't have complete sets of. That's when I began building a library of my own.
My library has changed quite a bit over the years. I've bought and sold books at favorite local shops, and now collect books for different reasons.
My library experiences a great deal of turnover and change over time, as my interests expand or are redirected. In the few years since I started this page, my library has turned over considerably, so that I may need to think up an entirely new approach for handling this page, and its no longer up-to-date images.
*
I've been pleased by recent trends in biography, where the book collections of famous people are gathered and displayed as a way of gaining insights into their owners. My favorite example of this is the library of photographer Diane Arbus, which was displayed at a major retrospective of her work, along with many of her cameras and excerpts from her journals and letters. (Coincidentally, I am a prolific filler of journals and writer of letters - words and books aren't just something to read, they are also something to make by hand and to write.) I like the idea that we can think of people as shaped by the books they read and love. I like to think that people can be changed by loving books.
I love books.
I love books enough that I could write about my favorites for a very long time. Which could mean that I will never, ever, finish this page. So what I'm going to do is post PHOTOS of my bookshelves, including stuff I recently unpacked from storage and am unsure if I'll keep, and from time to time I will rant on and on about a book here and a book there as the mood strikes. By about 2012, I should either complete this project, or have all new books.
So, here goes. I'm going to rate the books at the end of the descriptions on a star system, with **** stars being the best possible ranking. Low ratings don't mean the book is bad; just that it isn't serving any purpose for me right now.
First Shelf
The first few books are photo albums. I'll talk about my photographs elsewhere.
Tulips by Scott D. Appell, Friedman/Fairfax Publishers, New York, 1999. This is an enormous, lovely gift book with enormous, lovely, color photos of Tulips. One of Steven's sisters gave it to us. It's pretty, and it's the sort of book I've often wanted to produce of my own work, but I don't love it as much as I could, because it's not about orchids. *
San Francisco From The Air, by Antonio Attini and Fabrizio Guglielmini, VMB Publishers, Vercelli, Italy, 2005. (Not shown on shelf.) This is a tourist book with enormous aerial photographs. They are interesting to me as a local, but the shadows on the sunny days when they photographed are so harsh, that detail that might be interesting is lost. *
Diane Arbus: Revelations by Doon Arbus and the Estate of Diane Arbus, Random House, New York, 2003. This is the book accompanying a fabulous retrospective of Arbus' work that appeared at SFMOMA. The retrospective included a fabulous collection of her prints, plus the cameras she made them with, photographs from her life by others, her library (visible but just out of reach), and this book. Arbus is famous for taking photographs of people "on the fringe:" people who visually don't pass for normal. Her work is very sensitive; Arbus befriended the people she photographed, and often stayed in touch with them for many years; and there is an openness in the images which makes them appear more collaborative than exploitative. Many people are offended by the images for a variety of reasons, including interesting theories about how artists should glorify the mainstream, which doesn't appear to be something artists have ever really done.
I like this book enormously. It is printed beautifully; the essays inside are well-written; the images included are remarkable; and the thorough examination of Arbus' life that I enjoyed so much at the exhibit is included here in a good format.
Aside: when I learned that Arbus had committed suicide, I was shocked, and my actual thoughts were: "How could she kill herself? She had PHOTOGRAPHY!!!!" I understand that life is more complex than that, and that it is difficult to understand the lives of others. But this reveals my thought processes and priorities too well, so I thought I'd share it. ****
Berenice Abbott: Changing New York, by Bonnie Yochelson, The New Press/The Museum of the City of New York, New York, 1997. This may be my favorite photography book of all time. In the 1930s, Abbott undertook a WPA-funded study of New York City with a view camera sporting enormous, plate glass negatives. The resulting images are of a resolution beyond the dreams of current digital cameras, with details beyond what could ordinarily be captured by the eye, all printed beautifully. Here, the 1930s book that Abbott published is reprinted, but with additional interpretive material indicating precise locations of the photographs, sometimes with remarks about the fate of the buildings shown.
There is both a technical sophistication to Abbott's work - the images are very sophisticated and technically superior - and a fabulous aesthetic to the bold compositions and directly lit buildings. I love her, I love her, I love her. Abbott is my idol. ****
The Complete Watercolor Artist by Jenny Rodwell, Crescent Books, New York, 1987. This is another gift book from a friend, which demonstrates how to achieve various watercolor effects. It's well laid out and informative. I don't think I've ever used it for its intended purpose, but it's not bad. I think that my personal watercolor style doesn't really benefit from this particular style of instruction: my issues have more to do with drawing than with how I load the brush. I think I improve with practice more than guidance, since I usually have a rather firm idea of what I want. There's a darling little watercolor book that I adored that provided more instruction on drawing than on painting, by a man from Italy, and of course I can't recall a thing about it. I took notes somewhere when I rediscovered it, and goodness knows where those are. But I suppose I liked that book because it had charming drawings, more than for its instructional value. Oh, well. *
Remarkable Trees of the World by Thomas Pakenham, W.W. Norton & Co., New York, 2002. ****
Independent Spirits: Women Painters of the American West, 1890 - 1945 edited by Patricia Trenton, Autry Museum of Western Heritage/University of California Press, 1995. I'm a native Californian, and love to learn how other artists have interpreted the region that I call home. This book is a lovely collection of images from artists who recorded the landscapes of my home state and the surrounding areas in a wide range of styles, but with the same affection for the place that I have. ***
The Pastel Book by Bill Creavy, Watson-Guptill Publications, New York, 1991. This is an instructional book, yet I find myself looking at the sample work provided and being amazed that so much can be done with simple, colored pieces of chalk. I haven't worked as much with pastels as I would like - I love the chalk pastels over the oils, but the dust bothers me enormously - and I object to the toxicity of most modern fixitives that would keep the color on the paper. I've done some experiments with acrylic medium which haven't been as successful as I would like... Regardless, this is a great book that shows a wide range of effects and moods that are possible with pastels. The examples are quite charming, and fun to look at. I suppose that's what differentiates this instruction book from the watercolor one on the same shelf: I like the style of the work, and would like my own work to approach that skilled use of color. If I take up pastel again, or when I'm considering it, I'll look at this book. ***
Obata's Yosemite written and published by the Yosemite Association, California, 1993. Chiura Obata was a brilliant artist of who LOVED Yosemite, and decided to portray his experiences of it through traditional Japanese media. His sketches, ink wash paintings, watercolors, and the ink block prints he commissioned from professional printers in Japan are incredibly lovely, very technical, and rather unique. It is wonderful to see a place I'm familiar with described in a different visual language than I would use, yet still be instantly familiar. The book also describes the horrors of the 1940s, which resulted in Obata's internment during war hysteria. A great book. It's amazing that a postcard-sized watercolor sketch of a stand of trees at the edge of a meadow can take me back immediately to memories of a hiking trip in my beloved Sierras so immediately. ****
Ansel Adams at 100 by John Szarkowski, Little Brown & Co., 2001. Countless landscape photographers here in the west have been heavily influenced by Adams. Countless photographers have also been influenced by the written criticism of Szarkowski, whose work in New York redefined interpretations of modern photography for many. He was a good choice to write this book, which casts a critical eye on different periods of Adams' career, admitting to weaknesses and pointing out how even Adams changed his interpretations of how his work should be viewed over time. The essay is great, and the plates are lovely. ***
Napa Valley: the Ultimate Winery Guide by Antonia Allegra, Chronicle Books, California, 1993. A tourist guide and souvenir book for wine drinkers. Lovely images, but no longer so useful for touring, since the wineries have changed quite a bit in intervening years. So: *
Wildflowers: Seasonal Splendors of the North American West by Graham Osborne, Chronicle Books, California, 1996. I photograph flowers close up: Osborne photographs them beautifully as part of enormous landscape shots, emphasizing the flowers' places within the enormous natural vistas of the west. **
Imogene Cunningham: Ideas Without End - A Life in Photograhs by Richard Lorenz, Chronicle Books, California, 1993. Cunningham's magnolia always had an impact on me: so simple, so bold, and so impressive in black and white. Over the years I realized that more images I liked were hers, and then Steven got this book for me. Cunningham has a local fixture for many years, and in many ways led a sort of ideal SF artist life: she was a teacher at a prestigious local college, had peers as brilliant as she was, did some remarkable collaborative work, had a great social life, remained creative throughout her career, was permitted to be quirky and quaint when she felt like it, and had such an independent spirit... I admire her even more for knowing more about her life. I've read other books about Cunningham, and like the essays and selection of photos in this book best. ***
Alfred Stieglitz, from the Masters of Photography Series, Aperture, New York, 1989. This is one of those introductory books that provides an overview of someone's career. It's okay. The 'greatest hits' collection isn't bad, but there isn't enough information about the prints for an alt-printer like me to get much out of the book. Also, I've read more substantively about Stieglitz elsewhere, so this doesn't fill any gaps in my interest. *
Tina Modotti, no author, Phaidon Press Limited, 2002. This is the first of 3 overview books I bought from Phaidon's series, and I like it a lot. Unlike the Stieglitz book above, each of the photos here has a caption about when and where it was taken beyond just the title. This book allowed me to identify enough of Modotti's work to decide to learn more about her. I've read other books about her in the library, and her life was... complicated and interesting, actually. She didn't devote as much time to photography as she might have, having squandered some of her time as a model and then dying young, so her portfolio is limited. **
Lisette Model, no author, Phaidon Press Limited, 2001. An overview of the work of an influential street photographer. Model taught Arbus and influenced other photographers I like. *
James Vanderzee, no author, Phaidon Press Limited, 2003. Vanderzee was a popular Harlem portrait photographer in 1920s Harlem, and recorded fascinating aspects of black culture which were inaccessible to non-blacks. As with Phaidon's other introductory books, the book is attractive, shows a good collection of work, and even provides a useful timeline of the artist's life. **
The Noblest Invention: An Illustrated History of the Bicycle, by the editors of Bicycling Magazine, Rodale, Inc., state unknown, 2003. Nice old photos of cyclists. *
The View from Here: Celebrating 10 Years of Street Sheet, a Project of the Coalition on Homelessness, San Francisco, 1999. I haven't read this - no rating.
The Book of Bunny Suicides: Little Fluffy Rabbits Who Just Don't Want to Live Anymore by Andy Riley, Penguin, New York, 2003. A cartoon book of rabbits ending it all. Not mine. *
Get Your War On by David Rees, Soft Skull Press, New York, 2002. The most bitter, cynical, accurate cartoons about the current American political situation ever. ***
Get Your War On II by David Rees, Riverhead Books, New York, 2004. More of the same, which is a good thing. ***
Toxic Sludge Is Good For You! Lies, Damn Lies, and the Public Relations Industry by John Stauber and Sheldon Rampton, Common Courage Press, Maine, 1995. I haven't read this yet - no rating.
Pinky and Stinky by James Kochalka, Top Shelf Productions, Georgia, 2002. A comic book about two piggies in space. It's really adorable. It's Steven's. I need to send one of these copies to my niece as a present. **
Monkey vs. Robot by James Kochalka, Top Shelf Productions, Georgia, 2000. A heartbreaking comic about a factory despoiling the rainforest, and the little monkeys that fight back. ***
CARtoons by Andy Singer, Car Busters, San Francisco, 2001. Cartoons cleverly criticizing car-culture. **
Nausicaä of the Valley of Wind, Volumes 1 - 5, by Hayyao Miyazaki, Viz Comics, San Francisco, 1989. These are graphic novels depicting one of Miyazaki's great manga tales of a feudal world in the days of earth after a devastating, war-caused environmental catastrophe. It's gripping, beautifully illustrated with a remarkable style, and of much greater depth than the movie made from it (obviously). I'm missing the last two books of this epic. ****
Akbar & Jeff's Guide to Life: A Cartoon Book by Matt Groening, Pantheon, 1982. I have also owned, Love is Hell, Work is Hell, School is Hell, and various byproducts (postcard books, etc.) from Groening. This is pure cynicism, but with humor. I remember these too well to enjoy them repeatedly, but appreciate the cynical eye. *
Persepolis: the Story of a Childhood and Persepolis 2: The Story of a Return by Marjane Satrapi, Pantheon, NY, 2003 & 2004. Graphic novel autobiographies from a modern woman who grew up in Iran, fled, and later returned. ***
Still I Rise: a cartoon history of African Americans by Roland Owen Laird, Jr. and Taneshia Nash Laird, Norton, NY, 1997. This is not only enjoyable to look at, but also contains many bits of information you'll never learn in school about how many black thrived here before slavery, and about how controversial abolition was (contrary to the, um, whitewash you learn in school). ***
A Charlie Brown Christmas: The Making of a Tradition by Lee Mendelson, United Feature Syndicate, NY, 2000. Steven has many warm, fuzzy family associations with Charlie Brown, and especially some good recordings he has of the music from Charlie Brown. Not rated.
Iczer One art book, credits in Japanese. From the rather baffling (to my friends) animated film about a big-haired spacewoman who tries to stop a bunch of evil aliens from turning everyone on earth into monsters, through the magic of giant robots powered by naked young girls. I thought it made sense. Also, I had an amusing dream once that I was Iczer One. I think it had to do with the big hair. *
Appleseed, Book 1: The Promethean Challenge and Appleseed Book 2: Prometheus Unbound by Masamune Shirow, Eclipse International/Studio Proteus, California, 1989 & 1990. A comic that was highly influential on me in college, when many avante-garde Japanese architects were coming to fame. **
Dirty Pair: Biohazards by Smith & Warren, Eclipse International/Studio Proteus, California, 1989. The thoroughly American version (with redesigned characters) of the popular Japanese cartoon about two very destructive, barely-clad future law enforcement agents. *
The Far Side Gallery 2 by Gary Larsen, Andrews & McMeel, NY, 1984. A treasury of one-panel cartoons from the only cartoonist I know who had his own room in a San Francisco natural history museum.
Love and Rockets: Music for Mechanics by Los Bros. Hernandez, Fantagraphics Books, Washington, 1994. A graphic novel in a popular series about a bunch of interesting women and their oddball lives. It's really... cool. Well drawn, with well developed characters, totally interesting in a peculiar way. Hard to describe. It has an urban sensibility and nuances that I really appreciate. ***
Mad About Madeline: The Complete Tales by Ludwig Bemelmans, Viking, NY, 1993. "In an old house in Paris that was covered in vines, lived 12 little girls in two straight lines..." These are books I loved in childhood, consolidated into an expensive collector set for nostalgic 30-somethings. It works very well: the reproductions are good, and it's still amazing how well just a few lines by the author convey so very much. ***
Books that I've given away as gifts that could have occupied this shelf in the past: A Right to Be Hostile: the Boondocks Treasury by Aaron McGruder; Our Dumb Century: The Onion Presents 100 Years of Headlines from America's Finest News Source and various other annual compilations of news from the folks at The Onion; a variety of Doonesbury books.
Second Shelf
[Greek Myths - currently relocated to another shelf]
Fatal Harvest: the Tragedy of Industrial Agriculture by The Foundation for Deep Ecology (deepecology.org), Island Press, 2002. This is the largest and most beautiful coffee table book that the environmental movement has yet put out. It's the sort of book that I open and show to people when they come to visit. It has incredible essays, gorgeous photos, and distressing facts. "Tomatoes: varieties lost from 1903 to 1983: 80.6 percent." Never before has the organic movement been shown in bolder contrast to the horrors of big agribusiness' industrial monocultures. ****
A book that I want related to this:Welfare Ranching: The Subsidized Destruction of the American West, by the same group.
Hungry Planet - What the World Eats by Peter Menzel and Faith D'Aluisio, Material World Books/Ten Speed Press, California, 2005. Shortly after I saw a gorgeous spread about this project in one of my photography magazines, two friends appeared on my doorstep bearing this book as a gift. It's a photo essay with very informative text about what comparable families eat in a week, plus text about the health and life expectancy of people in each culture. It is STUNNING. It isn't just how much processed foods people in some countries eat (and how many natural foods others eat), but the implications of industry: if you live in Greenland and want to eat canned peaches, how many seals do you have to kill and trade? How many fish do you have to catch to trade? How can you make an area which can barely support your own needs produce enough cash to grow, water, process, can, and ship a peach? It's amazing. ****
Other books that belong in this category, which I don't own but have or will read:
Food Politics by Marion Nestle. The American public is kept confused about what and how to eat by design: purveyors of unhealthy, processed junk and even traditional foods which are too high in fat and/or salt to be consumed spend billions of dollars to persuade us that, regardless of our personal health situation, we can and should consume their products. Public health science, which doesn't have a significant budget for nutrition education, simply can't compete financially with the food-industry's self-serving messages.
Fast Food Nation: The Dark Side of the All-American Meal by Eric Schlosser. I don't eat fast food (or meat), but this book is a classic on the subject of how very, very, very bad this industry is - and not just for the people who eat the "food."
Golden Gate by Richard Misrach, Aperture Foundation, New York, 2005. This is a spectacular book of landscapes, or more specifically of one landscape over and over again in different weather and seasons: the author's view of the Golden Gate, home of the Golden Gate Bridge. It sounds simple, but these aren't typical postcard photographs, and the collection has incredible depth and beauty. ****
Bravo 20: The Bombing of the American West by Richard Misrach with Myriam Weisang Misrach, Johns Hopkins University Press, Maryland, 1990. The tale of how the U.S. Navy illegally bombed public (and occasionally private) lands in Nevada, because it could, and the locals who stand up to fight for their rights - with startling photographs of what the Navy's alleged stewardship of the land looks like. ***
This is a good book to review after reading An-My Lê s Small Wars, which treats militarism as both a serious matter and a fetish. The devastation to people affected by war seems well known, but the devastation of the land is often a taboo subject.
Adventures with Pinhole and Home-Made Cameras: from tin cans to precision engineering by John Evans, RotoVision, United Kingdom 2003. [Not shown on shelf.] I've wanted this book for a while, and finally bought it. It shows a sampling of work from people who make their own cameras, including pinhole work, multiple pinhole work, slot cameras, engineered cameras of various sorts, zone plate cameras... It's a nice set of examples that show how people are making their own tools to push the boundaries of image recording in an increasingly automated world. It has my favorite zone-plate nightscape by João Ribeiro as an added bonus. ***
Primitive Photography: A Guide to Making Cameras, Lenses, and Calotypes by Alan Greene, Focal Press, Boston, 2002. [Not shown on shelf.] This is the book I've been starting at the most in spring of 2006 as I plan a series of home-made cameras. Greene went on a mission: tired of the elimination of high quality factory-produced materials due to economic fads favoring inferior products, Greene decided he wanted complete control over his equipment and supplies -- by making them himself. In particular, his book shows how to make large-format cameras, including the required film holders, by hand. Of course, Greene also employs techniques to make his own film, and his own prints from chemistry he can mix at home.
I bought this book as soon as it was publicized on alternativephotography.com, and have been working through my other projects (including certain alternative printing techniques) while looking forward to using them with negatives produced from a large format camera I will make myself. I am very eager to try this, but actually want to build up to it through a series of small camera-building projects, culminating in the main box camera in Greene's book. I'm rather obsessed about this, which is the logical major project for me this year in my current series of experiments, so don't ask me about this after I've had a few glasses of wine, or you'll get an earful. ***
The Book of Alternative Photographic Processes by Christopher James, Thomson Delmar Learning, 2001. [Not shown on shelf.] This is currently the most famous of alternative process textbooks. It's pretty good, though I always want more illustrations than these books permit. James' explanation for why plastic cameras can produce meaningful bodies of work is quite enjoyable, and well thought out. ***
Historic Photographic Processes: A Guide to Creating Handmade Photographic Images by Richard Farber, Allworth Press, NY, 1998. A textbook with lovely, full page illustrations explaining how to make a variety of alternative process photographic prints. My only complaint: senseless female nudity. Not yet rated.
The Keepers of Light: A History and Working Guide to Early Photographic Processes by William Crawford. The book discusses antique photographic processes in the context of problem solving for mass communications. If you had visual information you needed to convey, and you had printing presses, how could you convey that information? Photography was intended to solve a problem: namely, that a lot of people who weren't great etchers wanted to communicate visual information. Drawing, even with drawing aids like camera lucidas weren't enough help. (The first man to invent photographic images was lousy at drawing, which helped motivate his experiments.) Crawford discusses printing techniques and limitations, photographic limitations, and then attempts to combine the two processes so images could be reproduced in presses. For a book with relatively few color plates (and a very long technical section with discussions of logarithmic relationships!), it's really quite remarkable. This book doesn't have enough photographic information to satisfy me - but what does? This book is out of print, but I now happily own it. ****
Blueprint to cyanotypes: Exploring a historical alternative photographic process by Malin and Gary Fabbri, alternativephotography.com, Sweden, 2006. [Not shown on shelf.] Malin published this book shortly after giving birth to her first child! It's a fabulous textbook specializing in my personal favorite process, cyanotype. It's beautifully illustrated - and I don't just say that because I have a full page image in the photogram section! It's well written, well illustrated, and the instructions are crystal clear. ****
A Trail Through the Leaves: The Journal as a Path to Place by Hannah Hinchman, Norton, NY, 1997. Hinchman is a talented illustrator who has been maintaining beautifully illustrated journals for years. Her collection of hand drawn maps and small sketches of life around her suggest that your life can be much, much richer if you just take a moment to really pay attention to what's around you. It's a clever and appealing book, and a good introduction to her work. ****
Little Things in a Big Country: An Artist & Her Dog on the Rocky Mountain Front by Hannah Hinchman, Norton, NY, 2004. Hinchman's book about how an illustrated journal can enrich your time gave a sample of what she can do, and this book is the next step: a much more richly illustrated book combining sketches and edited text describing her new life with her dog in Montana. Her drawings and paintings completely capture the mood behind her experience in a beautiful place with harsh weather and few neighbors. If I kept an illustrated journal (to the extent I don't illustrate mine with clippings and photos), I'd want it to be a lot like this. ****
And now, space for photographs of shelves that have not yet been described, and which are ever changing... which have changed so much, they no longer represent reality, and so I am deleting them for now.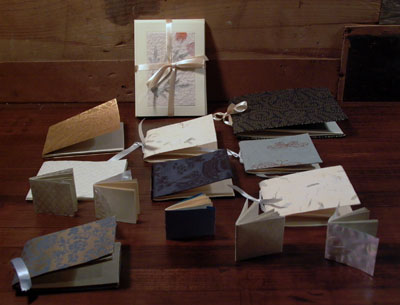 I have had a fetish for blank books since I was five, when my wonderful kindergarten teachers insisted that each student keep a black and white notebook with assignments and recreational writing in it. That early experience formed a lifelong habit of maintaining journals. At first I kept childish diaries, recounting the real and imagined injustices of my childhood, writing only when I was in the best or worst of moods. As I grew older, journals became a way of recording my thoughts and feelings, a way of cleaning out memories and dreams that might otherwise clutter my waking mind.
My return to college in the late 1990s expanded on my journal habit, as I was required to maintain a "public" journal for 2 units or so a semester. I stunned my advisor by buying and filling an oversized art journal each semester (rather than one volume over a couse of a a 3 semester school year like most other students). I filled them with recreational reading notes, project ideas, dream descriptions and sketches, photos, and thoughts about my classes. Simultaneously, I kept a personal journal, which I've used as a vehicle for emptying my mind of mundane details about my life which otherwise would simmer uselessly.
I always have at least one paper-filled journal in progress, but often have more. I have these in addition to my web pages and blogs. They fill a need that blogging hasn't (or can't). I think it has to do with the tactile quality that physical books have, and the idea that I am writing on paper just for my own satisfaction. (Astute readers will wonder whether this implies they should be satisfied by reading my writing here. To which I make a rude face. [rude face]) Writings on paper are also are more archival than many of my electronic writings: unlike so many journal entries that I wrote on my Apple-II-plus clone, I can still access my handwritten journals.
I fill so many blank books, and crave blank books that I see in stores so often, that it eventually occurred to me to make journals for myself. It's not difficult, and it's possible to make EXACTLY what you want, rather than settle for whatever is available in stores. (It helps that San Francisco has wonderful art supply stories filled with gorgeous papers from around the world.)
Making blank books is a great way to get high quality books on a budget. You just need to be a bit "crafty:" it doesn't require much equipment, the materials are reasonably priced when purchased in moderate volumes from an office supply store, and the gorgeous papers you see in art shops (that you've always wanted but never had an excuse to buy) can serve as beaufitul covers for your creations. Once you've had practice, handmade blank books and blank albums for photos or memoribilia make fabulous gifts. Very simple photo albums made with $4 of material sell for $30 and up at my local shops; fancier books covered with shiny fabric and a bit of lace sell for hundreds of dollars. (In January of 2006, at one of the popular on-line film developer websites, I see that an attractive, fabric-covered album billed as "handmade" which is 7.5 x 5 inches with 18 pages costs $52; an 8" x 9" 30 page album costs $92.50. Albums specifically styled for weddings cost far more.) With preparation and practice, it takes just a few days to make several hundred dollars worth of photo albums and journals.
Photo Albums and Memory Books
Oversized, simply made albums, containing extra space at the binding so that they will lay flat even when filled with pasted-in items, are one of the easiest types of books to make. Models in stores are often bound with two holes and a ribbon; sturdier models are bound with metal posts which are very easy to use. Current popular designs, including my favorite in which the binding is visible only from the inside covers, are easy to make. If you look over the basic construction of popular albums in stores, you'll see that their construction is quite simple.
How to make a post-bound photo album or scrap/memory book
How To Make An Elegant Photo Album (alternativephotography.com) is an article I've written under my middle name on a simple, post-bound book structure that you can use to make photo albums, sketchbooks, scrapbooks, art portfolios, or ordinary writing journals. The design posted here is intended for thick works that need spacing at the binding to allow photos or other thick items to be glued in without making the book bulge, but for writing you obviously don't need such spacers. Unless you're writing in lipstick, or chocolate. We can discuss that some other time.
How to make a ribbon-bound, hardcover album
Popular ribbon-bound, hardcover albums are also extremely easy to make: they are just less sturdy than post-bound albums. Some hobbyists find hollow posts or use grommets to reinforce the binding holes before lacing the ribbon through, which gives them a slightly sturdier book.
The basic design elements are the same with a ribbon-bound album as with a post-bound album. The main difference is that the small board hinge isn't folded inside the book and against the top sheet of paper: instead, it lies flat on the outside of the book, and is decorated by the ribbon running through it.
You'll need:
paper for the album pages
"spacers" or folds on your album pages, to pad the binding so it has room for the album contents to be added in (and will still be able to lie flat)
boards for the covers
linen tape to give the hinges durable flexing ability
Decorative paper or cloth to cover the outside covers; the same or different paper to cover the inside covers
Paste to hold the decorative paper on
cutting tools to cut the boards and cover papers
an awl, drill, or punch to make the holes for the ribbon
strong ribbon to hold the album together.
The assembly steps are as follows:
arrange the paper and spacers (either folded or added in)
cut your covers to size
connect the two pieces of each cover (main cover and hinge) with linen tape or other reinforcing material
cover the covers with decorative fabric or paper
align the covers and album pages to be sure everything lines up as you wish
punch the holes through the covers and paper
pull a ribbon through, winding through the holes at least twice each, and secure it with a knot and bow.
How to make a ribbon-bound, softcover album
These albums, made with thick decorative papers, are wildly popular and quite expensive in stores considering how little material they contain. Paper albums made with just 12 long sheets of paper, folded in half and stapled to support 5 x 7" photos, and closed with a decorative ribbon, cost $18 at my local art supply store.
This is so easy, you'll be shocked you ever paid money for these.
You'll need:
paper that's twice the length and exactly the height you want for the album pages
heavy paper for the cover (length depends on which option you choose, described below)
a punch or sharp object to create the small holes for the ribbon
ribbon.
Assembly:
Find paper that's twice the length and exactly the height you want.
Fold it in half.
Make a cover of heavy paper, either (a)ever-so-slightly larger than your inside pages, (b) a few inches longer than your book, so you can fold in the outside cover's edge to make the cover slightly stronger there, or (c) twice as long as the book, so you can cut a window on the front cover and paste a photo on the inside of the cover fold.
Line the cover and pages up well; poke two holes in the fold, and pull a long ribbon through once or twice, tying the ends in a bow on the outside.
Random tip: I make softcovers with papers that are too lightweight or delicate to be used alone by pasting them to cardstock with paste and letting them dry.
How to make a sewn, hardcover journal
I sew hardcover journals that feel like real, traditional, hardcover books! I used to covet all the pretty journals at the local art-gift shop; now I look at them critically, and try to figure out how to improve upon them.
Materials needed:
light to midweight paper (this will be folded in half to make the pages)
boards to cut to side for the covers and spine
decorative paper or cloth for the cover
end paper for the inside covers (optional)
waxed linen bookbinding thread (strong! won't stretch and ruin the book!)
a craft needle
an awl, for pre-punching holes in the journal
PVA, a synthetic glue used to hold the sewn edge of the book snugly together, preventing visual gaps from the inside
paste, to hold the decorative paper or cloth onto the covers.
Assembly:
Fold the writing paper in half, in small groups of about 5 pages each.
Make a punching guide by using a piece of paper or card the same height has your pages, and marking evenly spaced holes (5 is good for an 8.5 inch book) on the guide. Then use an awl to punch holes as marked in each of your little groups of paper.
Using your ingeniuty, use the thread to connect the small groups together, trying to fill each space between two punch holes eventually, and periodically wrapping around earlier stitching and pulling the thread tightly on the outside of the spine. When the inside folds for each group have all of their hole-to-hole spaces threaded, tie the thread outside the spine in a knot, and trim away excess thread.
Put a heavy coat of PVA glue on the spine, making sure it fits in all of the gaps between groups of paper, and leave the sewn inside of the book to dry between weights.
Once the sewn inside of the book is dry, measure out the covers. The covers should be about 1/8 of an inch larger than the inside of the book at each outside edge.
Use heavy linen tape to hold the covers to each other and make hingest between by leaving a small space.
Paste decorative paper or fabric to the outside cover, and fold over a large amount to paste down on the inside cover.
Put the inside of the book into the cover, to test for fit.
Cover the front and back inside covers with paste, and either put in a folded sheet of end paper on each side, and then put paste on those and drop the inside in, pressing the book shut to glue everything together OR paste the inside front and rear covers, drop the sewn insides of the book in, and hold it shut to glue it all together without endpapers. Try to open the book with the cover flat and the filling centered, to be sure the book covers can move freely.
Wrap in waxed paper and put under a weight to dry flat.
Over the course of my life, I've signed a few publishing waivers. I've had my writing published in student anthologies and a college textbook or two, but those were small contributions to bigger works. I have often planned to write books in the distant future: architecture textbooks were a definite calling, primarily because those available to me in college seemed so bad; and fiction books often frustrated me with paths I wanted the story to head it, which the author chose not to tread. I have bits of paper and pages of notebooks over the years filled with either outlines for novels, beginnings of novels, or quick short stories. More than once I sat down to sketch out what I was sure was a much BETTER version of a fiction book I'd just read, but that felt derivative, and I eventually set such 'improvement' projects aside. I've had plenty of outlets for my creativity, from fantasy role playing games in school to the web. But I have found another outlet, and it's a good one.
I write novels.
Two persuasive friends talked me into participating in National Novel Writing Month (NaNoWriMo) (nanowrimo.org), a locally organized, international project that encourages people who always SAY they're going to write a novel to knock it out on a deadline. Your first novel is bound to be bad: why not just get it done and out of the way? The project is a quantity project: instead of writing the perfect novel that you may never get onto paper or screen, you instead write a 50,000 novella entirely within the month of November. The process of writing is a fabulous one: the product of your first effort is valuable as part of the learning process, not necessarily as a masterpiece. With no pressure to produce a GOOD novel, you are free to write a novel for the experience.
It's a great experience.
As a result of this project, I've written FOUR novels, one each in November of 2004, 2005, 2006, and 2007 within the deadline period, and am thus a four-time NaNoWriMo winner. I hope to participate again.
My first novel is about a woman who learns that the afterlife is a huge bureaucracy, and attempts to make some improvements to the rules that govern cause and effect relationships in life that have dramatic and unintended consequences.
My second novel is the tale of our dark future, with the intervention of some well-meaning extraterrestrial beings who introduce technologies that shake our power structures to their cores.
My third novel (!) is an long audio interview transcript with an ordinary person who thrives in a near-future economic collapse, when the U.S. falls apart under the debt of foreign wars and unsustainable trade, and society rebuilds itself from the ground up. In the meantime, the narrator's personal life takes a complex turn, as one of her sisters moves to a fundamentalist religious state, and is sentenced to die as a witch.
My fourth (!!!) novel is about group of temps (temporary, contract workers) who find themselves in increasingly bizarre paying assignments from their agency, from preventing specific people from boarding planes to spilling coffee on people who are on their way to an important date. Gradually, they discover that each of the employees in their small division has an odd number of experiences and background details in common. They have to wonder: are they really just working for a temp agency and its eccentric president?
All four (!) novels remain in draft form and need work, but all came out far better than I could have hoped when I started writing them.
I work a lot of my publishing fetishes out my producing web pages like this one, but there's really nothing quite like finishing the draft of a novel - a complete story, completely created by you, in your own words.
Sign up for NaNoWriMo this fall. You know you want to!
Long live the printed page! The publishing industry is changing, and some of those changes are good. The rise of small presses and self-publishing ventures are exciting: I have benefitted from these trends. Note that each of these items is credit to my middle name, Elizabeth.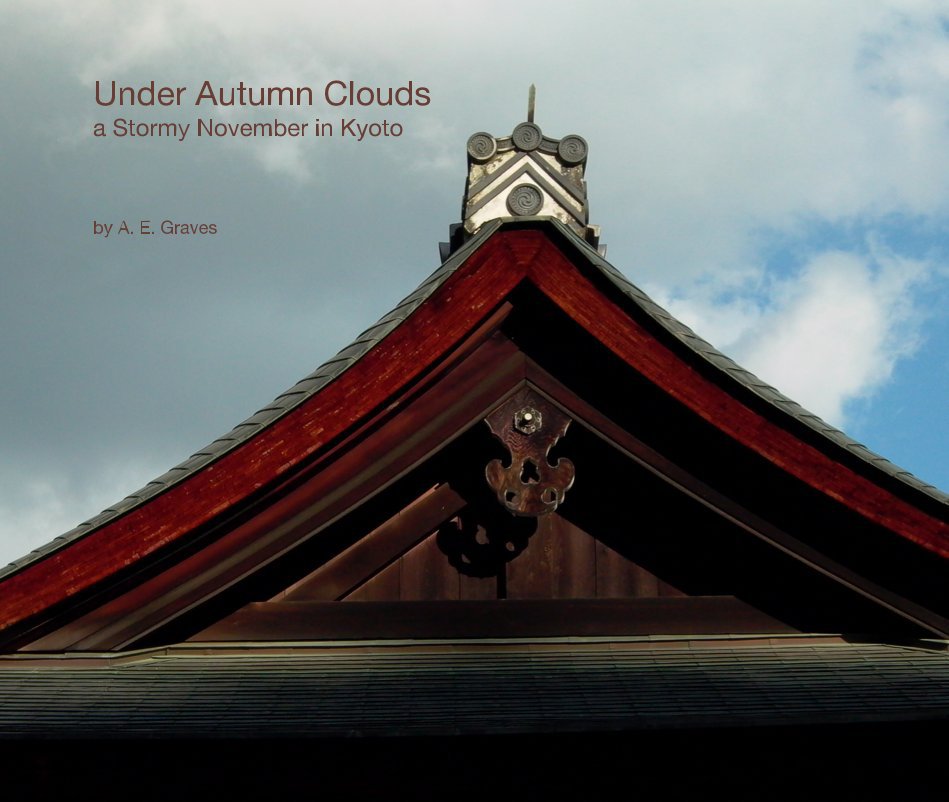 Under Autumn Clouds: A Stormy November in Kyoto. Self-published 2010, 158 pages. This is a collection of favorite details, primarily in Japanese architecture, from my second trip to Kyoto, a full 16 years after my first visit. The beauty of the ancient parts of town was filtered through the experience of traveling with a broken heart: I will always have complex memories of this visit.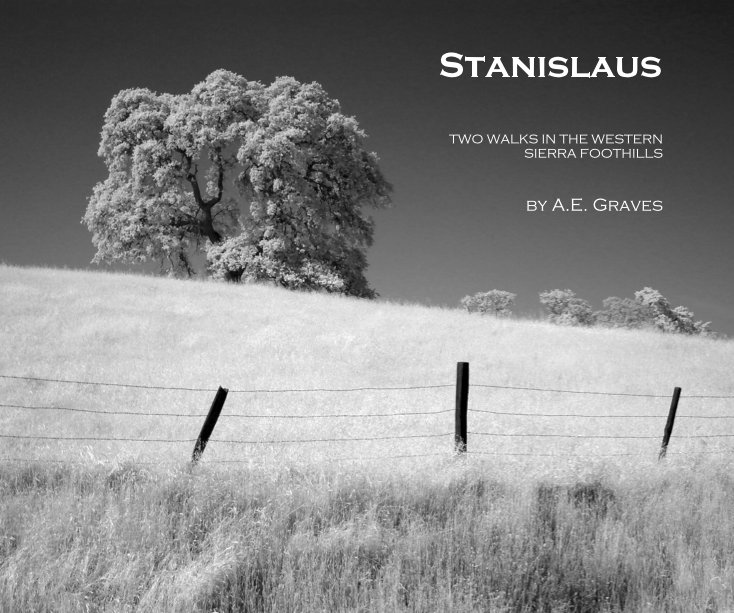 Stanislaus: Two Walks in the Western Sierra Foothills, self-published photo essay, July 2009. This is a photo essay of infrared images made along the Stanislaus River in the Sierra Foothills. This edition is short and simple, beautifully printed by Blurb.
AlternativePhotography.com : Art and Artists, Edition 1, by Malin Fabbri, released November 2006. Malin's latest book is an amazing work: two samples of work from each of 115 artists working in the "alternative processes," the primarily hand-coated emulsion processes that were invented long ago. This is a high quality coffee table book, available in softcover, hardcover, and eBook.

Like Sand From Orchids Lips: Limited Collectors First Edition, published by TCB Cafe Press/Cafe Andre, July 2006. "The joint themes 'Orchid Chic: Passion, Fashion & Orchids' and 'Sand: The Human Form in a Formless Medium' were interpreted by a pool of international photographers, and the resulting fine-art photography book is illuminating to the eye and the intellect." Three of my images are featured as full pages in this limited edition coffee table book; one adorns the rear cover.
Blueprint to cyanotypes - Exploring a historical alternative photographic process, by Malin and Gary Fabbri, May 2006. This high quality, glossy, heavily illustrated textbook describes the technical and artistic opportunities presented by the cyanotype process. The book provides all of the information required to begin using this non-toxic, archival, photographic printing process. Stellar and diverse examples of prints from a range of contemporary artists using cyanotype demonstrate how the process can be used to express ideas in a wide range of artistic styles. A full page reproduction of a cyanotype photogram represents my contribution to this first edition.
My photos have also appeared in art show catalogs, including a handbound catalog published by the Laboratorium, Ersatz Group Exhibition Directory (SF Camerawork) (in which my image is the size of a small postage stamp), and Roll Call (SF Camerawork).

last updated august 2010