Yosemite High Country, July 2002
For all those of you who were kind enough to express interest, below are a few photographs from my most recent visit to Yosemite. It's best viewed at full-screen size (otherwise some of the text hides.)
Glacier Point to the Valley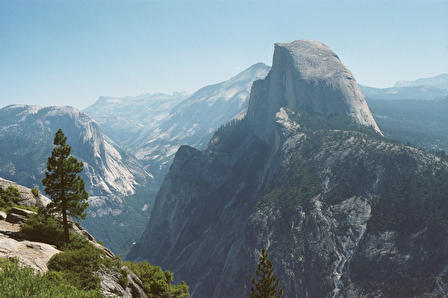 On Monday, we took the Glacier Point hiker's shuttle from the valley up to Glacier Point, and hiked down the longer Panoramic Trail (12+ miles to the valley floor), to both escape the teaming crowds who take the "4 mile trail" down to Nevada Falls and to see more of lovely Illouette Creek.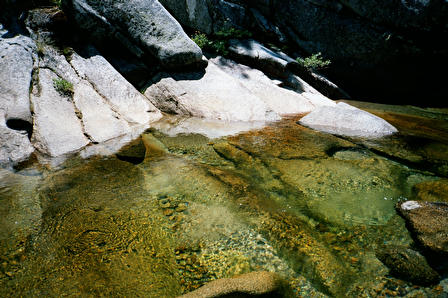 Despite the high starting point, the trail winds very widely down to the Illouette, then back up to Panoramic Point (which isn't very, thanks to the reasonably thick forest), and then down to the falls for a many mile, hard-on-your-knees descent. It's worth every minute, of course.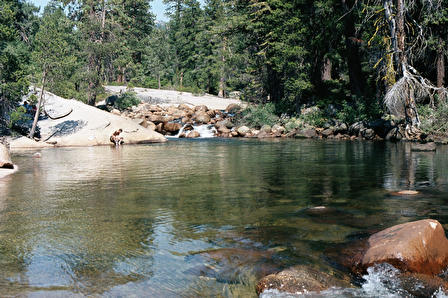 Nevada fall has a lovely pool...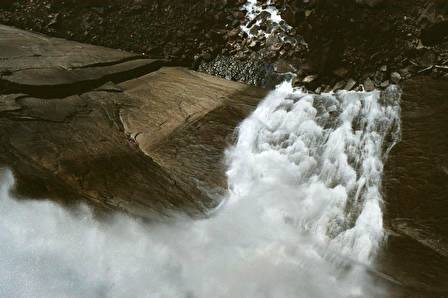 and a gloriously steep drop.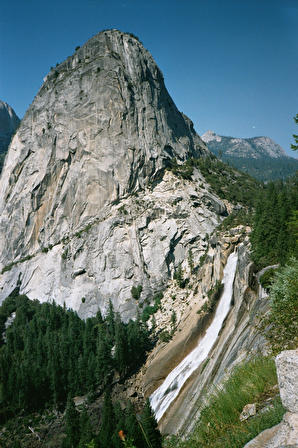 .

It looks great from above.



Tuolumne Meadows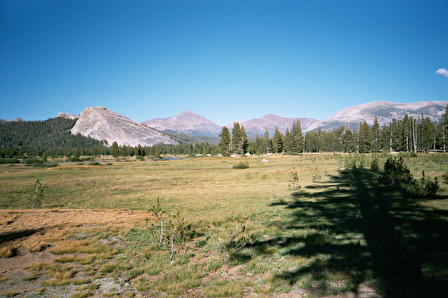 We next took the once-a-day Tuolumne Meadows Hiker's Shuttle up from the Valley, which gave us some time to explore Lembert Dome, which is the dome on the left in this image.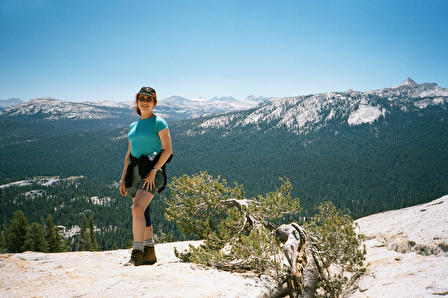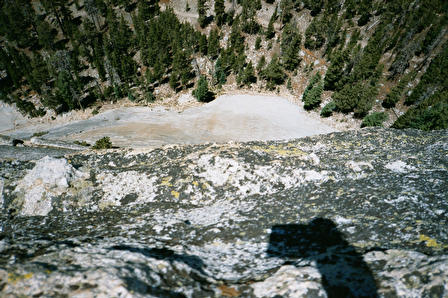 Of course, Steven ran right out to the very edge of the farthest bit of Lembert and took this photo: you can see the shadow of his arm at the top of the sheer cliff, and a distant trail on the valley floor far below.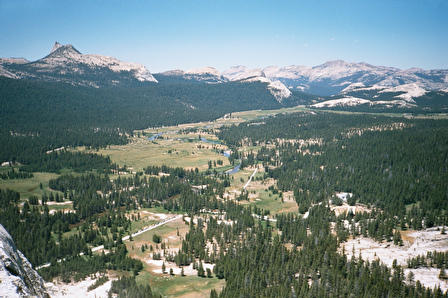 This gives me a different perspective of Tuolumne Meadows (also by Steven, from the same vantage point).

We also visited Dog Lake. It feels hundreds of miles away from the bustle of the Tuolumne Meadows campgrounds (I never realized people brought so many vehicles with them to "camp").
Backpacking, from Tuolumne to the Valley via Rafferty Creek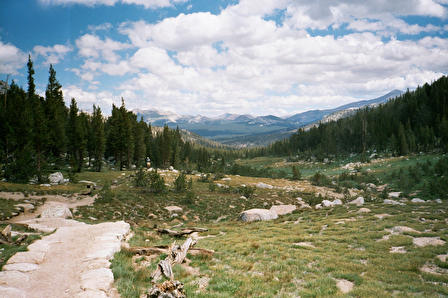 Looking back toward the Merced River from whence we came, with Mt. Dana's friends in the background.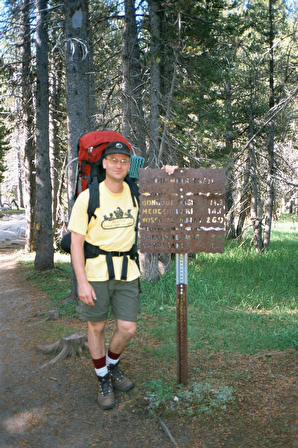 Steven, modeling his new, giant-sized pack.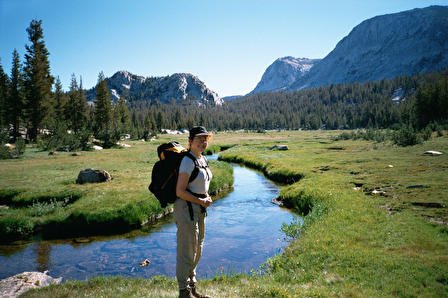 Some of the lovely mountain meadows we tracked through. It's spring in the high country in July, so the lupines, Indian paintbrush, and tons of various white and yellow flowers are EVERYWHERE.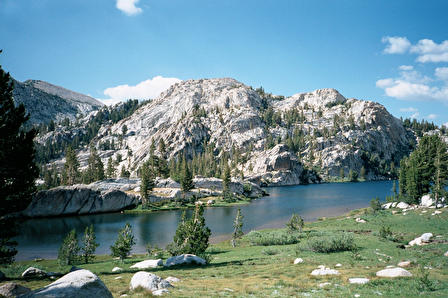 Scenic Boothe Lake. I'm hoarding my best photos of this place for a contest.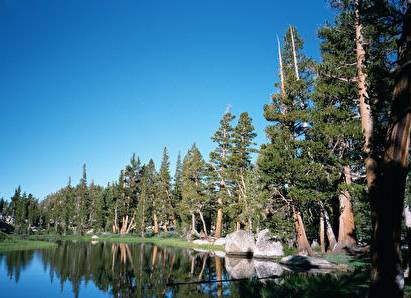 One of many small lakes we passed while heading toward Merced Lake.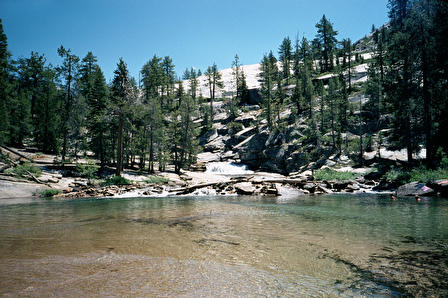 This is part of a pool at the base of gentle water falls, used as water slides by some, near the Merced High Sierra Camp. Despite sharing our route with the High Sierra Camp circle route, we encountered few people outside of the Little Yosemite Valley.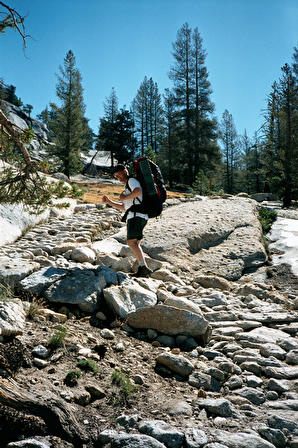 A sample of a typical trail. THIS is why I spend so much on boots, and why I wear them out so quickly.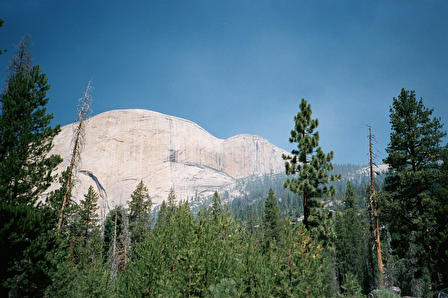 A view of half dome I hadn't seen before.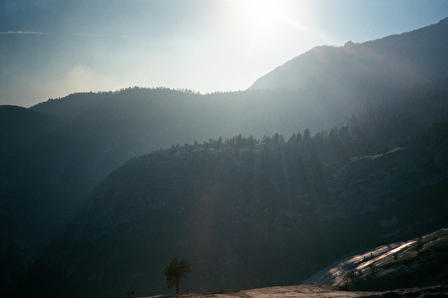 A fire near Half Dome's upper regions made the air reek of smoke, and made us sneeze ash. There were signs posted on our trail (the high trail above the Little Yosemite Valley) that we were in a wildfire management area, which meant that fires were permitted to burn on their own, and we shouldn't report them. Which was fine. Though it makes you nervous, wondering if a fire is raging toward your bucolic little campsite. Ultimately, the fire did impact us: our trail to Half Dome was closed, and we needed special permission to exit on the trail down to Nevada Falls. I was relieved: we would have had to go more than 18 miles out of our way if our rangers weren't generous.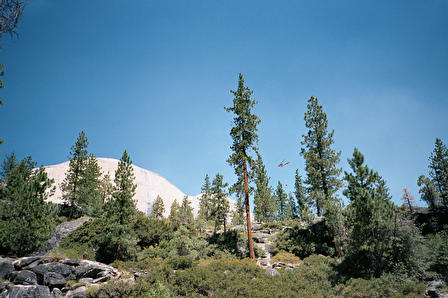 The last day was filled with the sounds of this firefighting helicopter.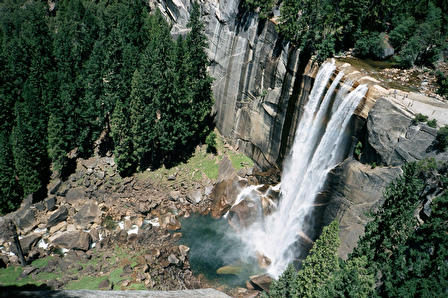 From the steep link between the mist and regular trails, a view of Vernal Falls at low flow.
last updated august 3, 2002